That's right!!!!!!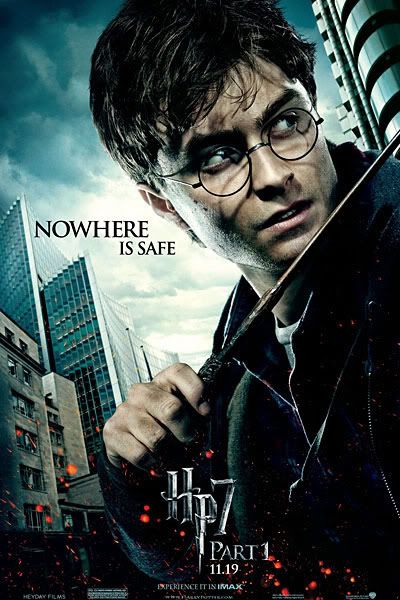 I just watched
Harry Potter and the Deathly Hallows: Part 1!!!!
And I have to say it is
ABSO-FUCKING-LUTELY A.MA.ZING!!!!!!
This is the first time I am actually impressed with a HP movie!
(yes I did like the first 2 but wasn't impressed by it)
That was certainly $8.50 well-spent.
I really liked the movie a lot and there was actually a particular scene which looked EXACTLY like how I envisioned it while reading the book. Wtf how creepy is that?
Anyway the cinema was also ALMOST FULL! The only empty seats were the first 2 rows of the middle section! Thank god I booked tickets.
But the audience was really funny because everyone kept "URGH"-ing or "Awww"-ing or laughing unanimously at certain scenes haha.
So yea. The movie is really good, all book readers should go and watch it you will not regret it!
But I say only book readers because I want to
warn

non-readers...
DON'T WATCH IT.
You may understand what's going on in the first 6 movies but trust me you will not understand like, 99% of this movie unless you read the book!
The 1% being the Warner Brothers logo at the front and the Harry Potter logo later on.
But it's okay you have 8 months to catch up until Part 2!
So with that being said I WANT TO WATCH PART 2 LIKE RIGHT NAO and I also bought the popcorn set which came with this really ridiculous looking wand that will make sparkling sounds with light emitting out of its end when you press a button. I know right? It doesn't even look like the elder wand in the movie!!
I'm not going to spoil anyone for the movie...yet! I think I will go into more detail like, after the movie stops screening everywhere lol.
Ok so that's all! I had a really great day today! I remember earlier this year how I was like "OH MAN I STILL HAVE x MONTHS BEFORE HARRY POTTER" and just like that I am already here saying how great it is!!
I also watched Megamind which is actually not a bad movie at all! Better than I thought it would be. You should watch if you have yet to also.
Ok it's getting late so bye!!! I have a special announcement coming up at 3:50AM if you don't follow me on twitter / don't read my tweets. So it's either you're going to wait for the surprise at 3:50 or you can just go see it in my tweets. (tweeted quite earlier on) See I'm giving you options!