So I am now back from the BB Camp and I have unfortunately fallen sick because I think I contracted flu from one of the volunteers there who sneezed onto my arm on the fourth night lol
For those who didn't know I attended this really large scale camp for the Boys' Brigade called Camp Temasek V (Five) and I found out that they only have Camp Temasek every five years! So the next one would be in 2015.
The camp was really great to be honest and it's really anything but horrible. I made quite a few friends there and judgemental person didn't go! No one from our school, in fact.
There were over 500 campers from Singapore, Malaysia, Brunei and Indonesia and everyone was grouped into the 5 continents.
There were 2 medics assigned to each continent and Mrs Tan and I got America!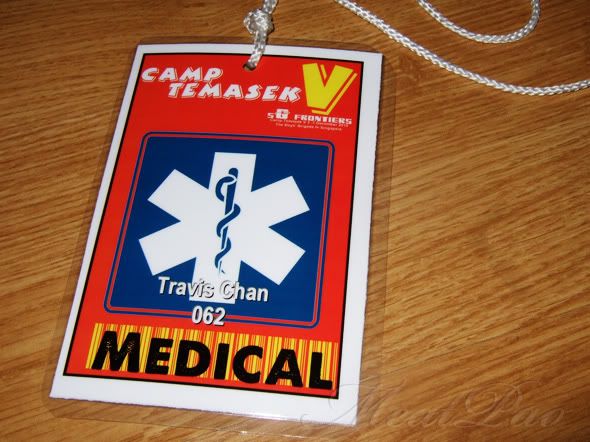 This will make you of high authority and feel like god
And it really does because I can do whatever I want! I can wake up later, turn up later and not get bossed around or shouted at!!! I just sit at a side and nurse wounds.
The camp was held at the Pasir Laba army campsite and it was also my first time there. Not bad to be honest! Bunks are really comfortable and the food is really not as bad as I had expected. Sometimes the food can be really good!
Among the activities they took part were Archery, Standard Obstacles Course, Dragonboating
(my group didn't manage to do it due to rain)
, IGTS
(Infantry Gunnery and Tactical Simulator)
, Fencing, Rock climbing, Laser Tag and many others la!
I tried the SOC and it's quite fun leh! And the IGTS is like using guns to shoot at screens. It's like the arcade kind but better.
From my observations there were quite a few lookalikes in my group! There was a Kaela Kimura one (he's male), one like Tohoshinki's Yunho and one that looks like a reaaaaally skinny version of Alicia Keys (when smiling and yes he's male too).
The camp was fun and my continent is actually one of the continents with the least number of casualties, so yay!
I wasn't actually sad on the last day until the time when I had to say my farewell to everyone in my group :( and many of them just happily "BYE BYE!!!" to me wth I don't know if I should be happy or insulted.
That's all I have to say about the camp! It was really enjoyable. Too bad it's only once every 5 years.