Intro
|
Part 1
|
Part 2
|
Part 3
|
Part 4
|
Part 5
|
Part 6
|
Part 7
| Part 8
| Part 9
| Part 10
Day 5
1 November
Hello! Sorry for taking so long to do this up because I was being lazy. As usual.
As said in Part 4 for the fifth day we went to the Sapporo Beer Museum
(did we really?)
and I also found out how horribly expensive it is to get your hair done in Japan.
We were walking along the street and happened to pass by a hair salon which had a board outside the entrance stating the prices for whatever.
Trimming alone costs
4000yen
- a whopping
SGD63.
I. KNOW. RIGHT?
And coloring costs
5000 yen
- which is a crazy
SGD78.
No shit man, no shit.
Plus it's not just because the shop is crazy but that's the normal price range of hair salons everywhere there!
I also saw the weather forecast on the news the night before and the cool thing about their weather forecasts is that they predict in time intervals of 3 hours. Like 6am-9am, 9am-12pm, 12pm-3pm, wtf???
But anyway it predicted rain from 9am to 12pm and you know what? They were dead right. It really started raining around 9am. Too bad it didn't stop at 12pm if not I would be convinced that there is really a weather god up there.
Well I woke up at 10am and since everyone was lazy
(actually, only Eva)
we got out much later.
And so we headed for brunch at this small Italian restaurant at, once again, the train station.
(It's really big and has a lot of places to eat okay!)
So my Italiano dish was.....
Pasta with

Snow Crab
And there are like huge chunks of snow crab in it! There's one to the far left of the picture.
And it tastes fucking delicious. Especially when you add Tabasco sauce because it makes the taste 10 times better. 850yen totally worth it!
So after our brunch we made our way to the Sapporo beer museum! Since, you know, Sapporo beer is rather famous in Japan.
Just like Lake Towada we also took a bus that would take people to the tourist attractions around the city! But the bus stop for that is at like, normal bus stops just like any other normal bus there. We had difficulty finding it!
Random shot of Book Off from the bus windows
Beer barrels with words. Yes that's the best description I can give.
A lame attempt at being artistic
When we finally reached the museum... yes... you must be looking forward to the *twist* right?
IT WAS CLOSED!!!
How sad is that? And the best part is that it was
closed from 1st November to the 15th.
The day we went there was the
1st.
In fact we also wanted to go to the Asahiyama Zoo during our stay in Sapporo but once again we found out that it would be closed throughout our trip there. What a joke!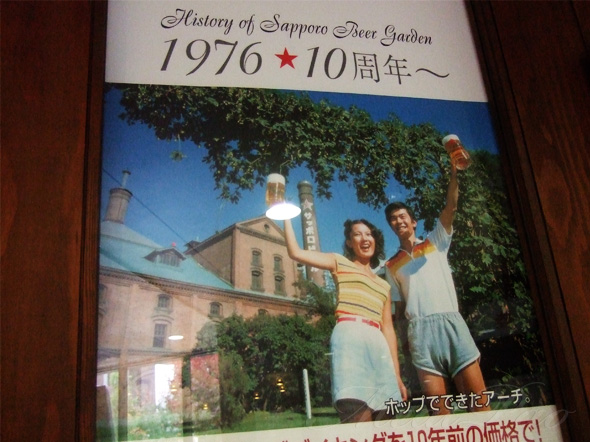 In 1976, people had no shame. Wouldn't wanna be caught dead wearing that!
We ended up looking around in the souvenir shop though.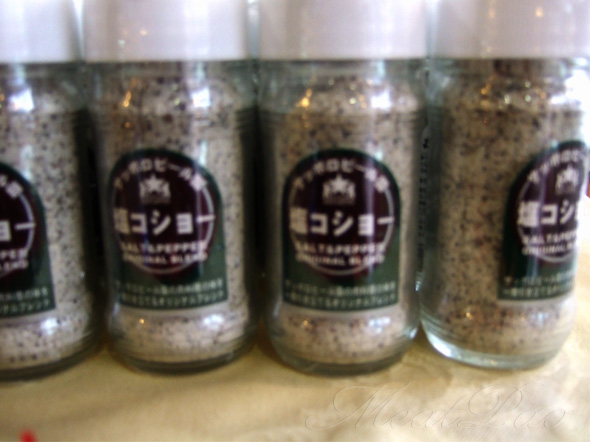 Sorry for the blurriness I swear it didn't look like this on the camera screen.
This is clearly for all lazy asses out there who can't be bothered to take both the salt and pepper shaker. So they invented the two-in-one shaker! How smart.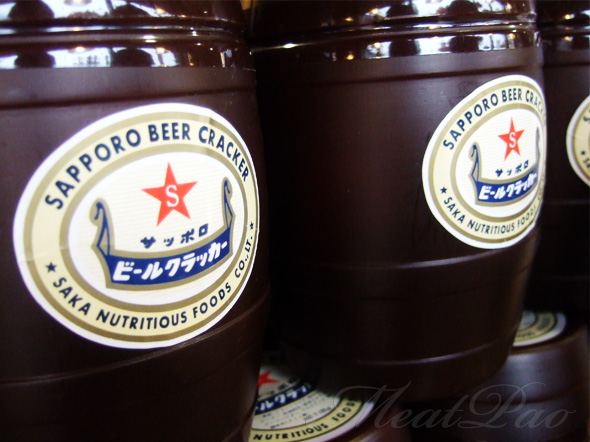 Glowing keychains~ how cool is that? I was so mesmerized I bought one.
But I should have known better because I think it only glows under UV light. In other words it doesn't glow in the dark. So the keychain is pretty much useless now :( STOP JUDGING ME.
I also bought some souvenirs as well as a T-Shirt and towel, both of which has the algae ball mascot with the crotch bulge!!! Hahaha. Picture at the end of the post.
After doing some shopping I saw this Gachapon machine: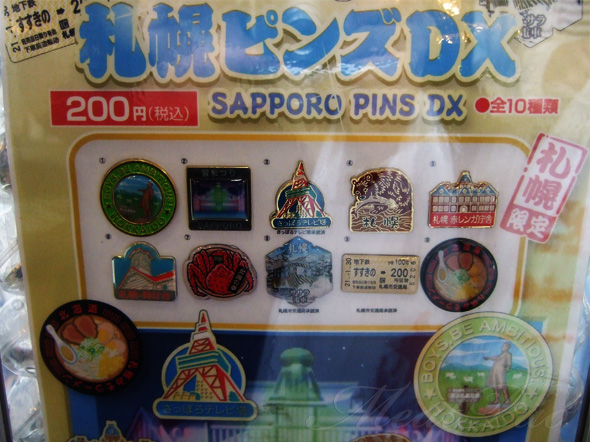 And everything is pretty boring, but what caught my attention were the pins of the bowl of ramen, and the pin of the crab. As you can see I only bother to look at food but that's not the point.
The moment I saw that crab pin, I was thinking that
I MUST HAVE IT.
I don't know why but it's almost like how people also think "I MUST BUY 4D" despite never winning anything.
Not very cheap either. 200yen!
Eventually I ended up spending 1800yen on that one single machine. I kid you not. I think I will grow up to be a gambling addict.
And despite trying for 9 times, I only managed to get 7 irrelevant boring pins, 2 ramen pins and
0
crab pins.
ARGHHHHHHHHH. I actually considered giving the crab pin to Edrie as a souvenir because I know he's allergic to crabs.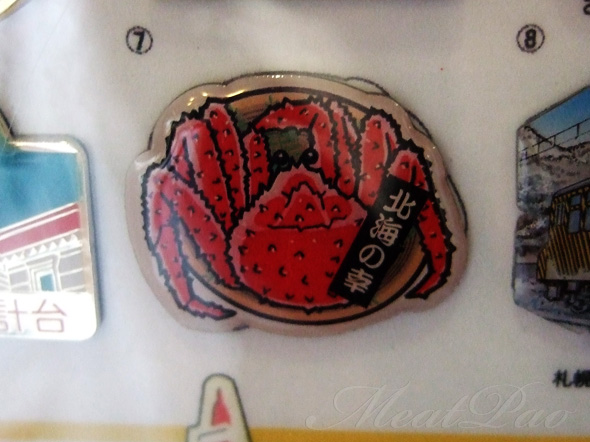 OMFG SEE IT'S TOTALLY TAUNTING ME RIGHT NOW
After feeling sad we decided to move on to somewhere else. We didn't know where else to go since our plans were foiled by the closure of the museum.

If Toys R Us sells toys, what do you think Babies R Us sells? Yea. Mind = Blown.
I don't know why I keep taking pictures of cigarettes. Anyway the point is I just realised that they're actually rather cheap compared to the prices here. (410yen = SGD6.40)
Omg finally something cheaper than Singapore's prices?!?!?!?!
Most original name yes?
Amusing.
Anyway we walked by a dessert shop and decided to stop for a nice snack because we saw HUGE eclairs and we just couldn't let the chance slip away.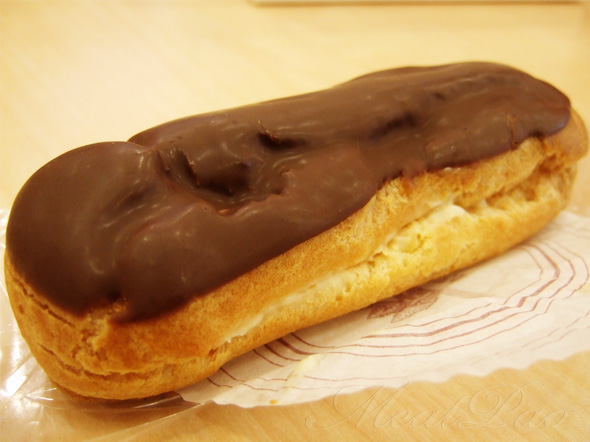 Oh my goodness
YOU KNOW YOU WANT SOME TOO
After eating we decided to head back to the bus and go to this Sapporo Factory place which I do not have any idea about. I only know it's a shopping mall.
It feels so Christmas-y
Not anymore!
Seriously look how awesome the place is.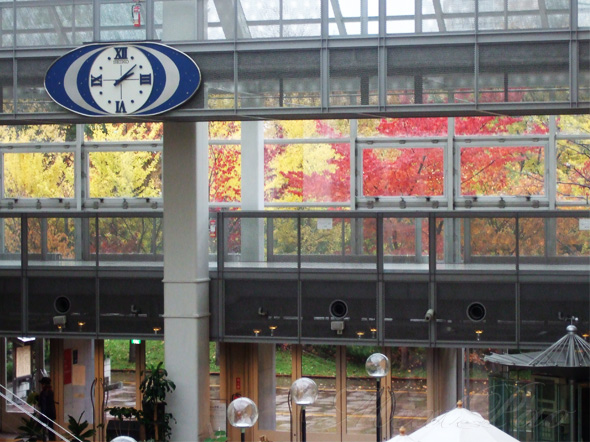 And the trees outside!
There was pretty much nothing to do there so we did some souvenir shopping and after that we decided to go to the Sapporo Clock Tower, which is apparently the oldest building standing in Sapporo and it's actually a museum on history shit that I cannot be bothered about.
The only thing that interested me in the place was another Gachapon machine which, once again, had a crab on one of the pins.
Since it was only 100yen per try I decided to give a try twice but still failed! Biggest FML moment right there. 2000 yen on Gachapon machines!
After that we decided to walk to our next place to visit which is the
Nijo Market
. Once again it's more or less a fish market but we just want to take a look there anyway.
Mika Nakashima promotion at a CD Shop somewhere underground.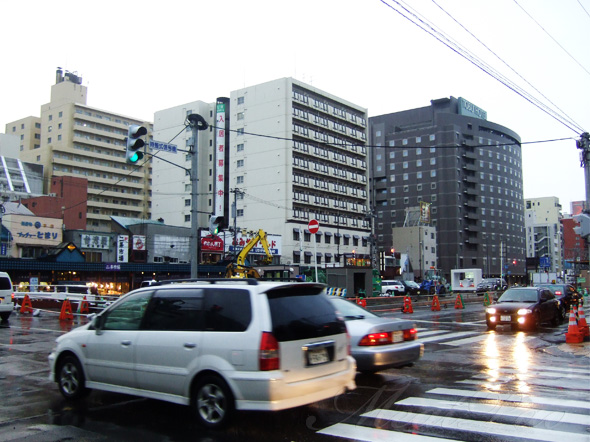 Still raining!
What I noticed when we went there was that
every stall was selling more or less the same things
. Like exact same things so I don't know how they compete for business.
But the good thing is that they sell
Shiroi Koibito biscuits!
If you don't know what they are you need to google it right now and if you still don't know what they are, you have not lived life yet.
It was interesting to see how they get customers to buy the Shiroi Koibito biscuits because they all charge the prices without tax so people would buy from their stall instead of the others!
But in the end I bought it from this shop that charged the price without tax, except on top of that he gave another 5% discount. Sold! I also bought a T-Shirt there.
I ended up buying one of the biggest box for 3400yen (SGD53) and one of the smallest box for 705yen (SGD11).
It's already considered cheap there! Singapore will sell at a higher price since they're imported. Oh that's another thing cheaper than Singapore prices!
And if you think they're fucking expensive and only stupid people like me would buy it, you just need to take one bite and you'd take back your words right away.
Sad day for this crab trying to escape
Only in Japan will you get such great service! Because of the rain they took the effort to put a plastic bag over the paper bag so the rain won't wet it.
Another shopping street. I was trying not to spend anymore money because I was already running out and I had to save the money for Tokyo shopping!
Lol
After all the shopping the next thing we wanted to look for was a ramen alley that is really famous in Sapporo and is like, the ramen heaven there or something.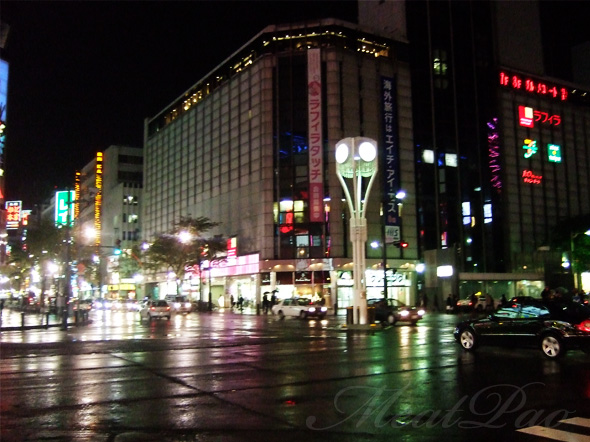 And it was STILL raining.
Lol again
In the end we just couldn't find the damn place
(maybe because it was too dark or something)
and we just settled for a ramen shop we could find.
I guess you can call that shop famous as well because apparently it has been operating since the 1980s! And they have this wall where celebrities autograph on.
Prices are rather reasonable too.
Everything cooked in your face!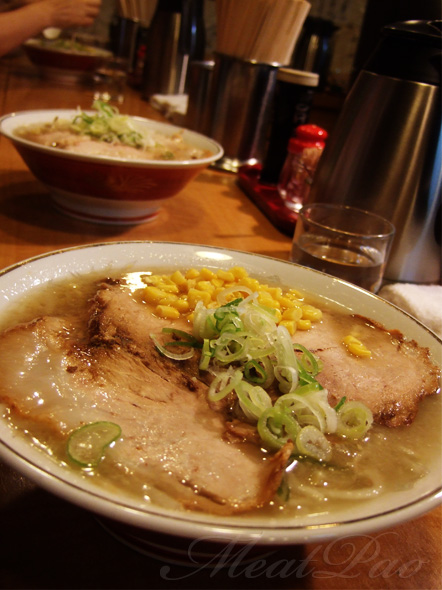 And here comes our ramen~
My awesome butter corn ramen.
It was, as I always say for every dish, fucking nice. No but really other than it being a little bit too greasy, it tasted really awesome.
And gyozas as a side dish. Unfortunately they are frozen ones but nice nonetheless.
Oh and after we reached back to our hotel room, we found out through the computer that we actually walked past the ramen alley
(because of familiar surroundings in the pictures online)
and were totally cursing and swearing after that.
So after our dinner we decided to take the subway back to our hotel! Which is really equivalent to the MRT in Singapore instead of the other trains you saw us taking in Japan.
The really cool thing about this is that at train stops they have
ticket changing machines
where you can change the value of your ticket in case you buy the wrong one!
Which is why the tickets don't show you the exact name of the destination, but just a "200yen zone" and such.
Unlike in Singapore you buy the wrong ticket you're dead!
(Ok la not so terrible but you'll feel sad, embarrassed and rejected to the society. It's not that bad.)
The tracks
I'm curious how you're even supposed to know who has "internal organ disabilities" given if you don't see the person coughing.
(Which even then doesn't even mean you have an organ disability)
Honestly even without this sign the Japanese people won't even use their phones because they're polite like that.
The subway rides are really smooth that you don't even need the handles to balance at all! Impressive.
Doesn't take long for the pontianak to start floating towards you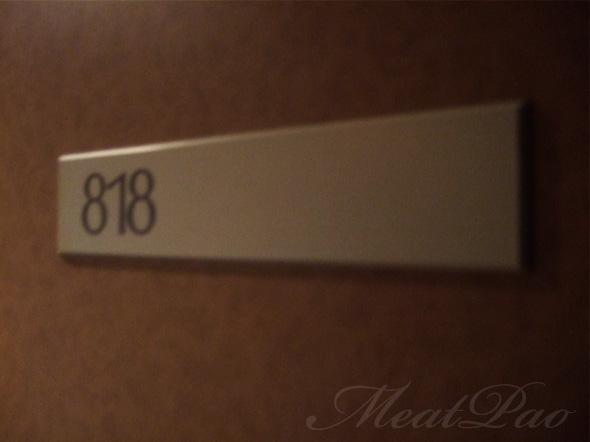 The
(blurry)
room number~
All my shopping for the day! As you can probably tell by now, the Japanese really love to wrap everything up. Check out all the gachapons I have.
Also for this day in the morning I actually lost my lip balm somewhere in the room
(I couldn't find it anywhere AT ALL)
so I had to use Eva's lip balm for the whole day.
But I'm saying this because by the end of the day, the lip balm suddenly appeared out of nowhere under my blanket
(which I had searched in the morning by throwing it around violently)
which leads me to the conclusion that there is a lip balm ghost living under my bed. Scary shit.
And that's all for Part 5!
For Part 6 during our last day in Sapporo
(Awww)
you will learn that I had a nightmare the night before
(about you)
and how I became even more convinced that the Japanese hide their entire kitchen inside their small little bags.
And if you have ever wondered how it would be like to be in a place that smells of rotten egg aka sulfur everywhere, wonder no more because a place like that does exist and we went there.
It's so exciting right?
Intro
|
Part 1
|
Part 2
|
Part 3
|
Part 4
|
Part 5
|
Part 6
|
Part 7
| Part 8
| Part 9
| Part 10