I know I'm very late in wishing you, so here's a bad drawing as compensation!
Yeah.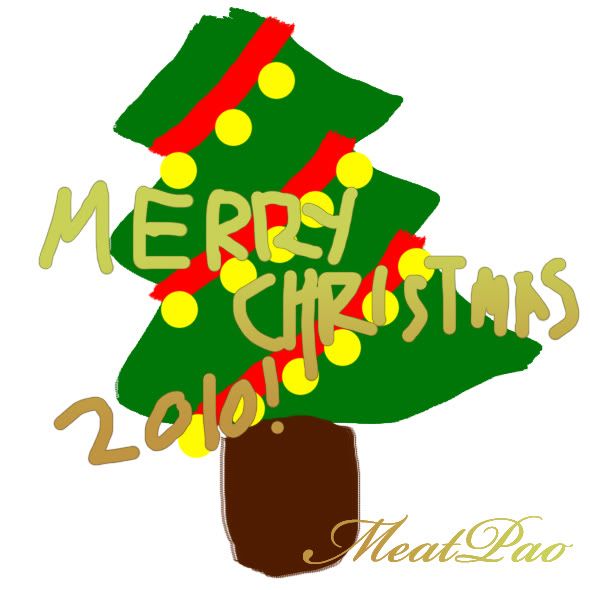 ***
M
E
R
R
Y
C
H
R
I
S
T
M
A
S
!
!
!
***
I woke up only 4 hours ago because I played overnight Mahjong in Eva's house. Together with Jie Le and Eva's Malaysian cousin from like, 11pm all the way to 6am.
Also I think I got pretty drunk there.
But it was fun and I was actually supposed to attend some ~family Christmas party~ but honestly I really do not want to go there.
I don't know about you but shit always gets awkward when I'm there. Especially when there are toddlers in the house because most, if not all, of the attention will be on them so you'll pretty much be left alone.
I miss the days when the attention was on ME instead. And by that I really mean 11 years ago.
Plus,
they always don't have alcohol.
Who the fuck are you joking?
Other than getting yourself drunk and playing Mahjong for Christmas, it is also the one day you get shitloads of text messages from unknown numbers, aside from New Year's Day. Irritating.
But what's not irritating though are the gifts that I got! I actually haven't opened them yet because I am disciplined like that to resist temptations. I think I'll open them tomorrow or something.
And also since it's boxing day tomorrow, which I think is the day you're supposed to open your presents, I'll be doing up a post tomorrow about the Christmas gifts I got!! I don't know about you but I'm kind of getting excited.
(Ok I just did some fact-finding and it's a common misconception people have of Boxing Day ._. You open your presents on the 25th. Shit! I found out when it's already past 12am!)
So I hope you all enjoyed your Christmas! I realised a lot of people played Mahjong on Christmas Eve as well. We need to hang out.
In fact, I have fun celebrating Christmas alone. At least there's nobody leaving you alone
(since you're alone by CHOICE)
and there are no annoying babies! Neither are there strangers who you become awkward with trying to strike up a conversation with.
(Who the fuck are you? What are you doing here? Are we related? Are you rich?)