I went back on my words, didn't I?
I can't be blamed because I had additional work unexpectedly given yesterday!!!
I didn't have any homework yesterday though so I guess I can't really be excused.
Anyway I shall start with thanking people!
Thanks to Jia Rong for your lulz gfx and Jeremy Yong for your gfx too!!!
Thanks to Jia Rong, Sophia, Eva, Philana, Christel, Desmond, Casey, Khadijah, Edrie, Gerald, Karen, Jannah, Wei Yang sir, Cin Lee ma'am and RCY NCOs for your presents!!!!!!!!!!!!!!!!!!!! I am eternally grateful!!!
Thanks to Marion, Eva and Christel for the SMSes early in the morning on the 19th!
Thanks to Jia Rong for that AHS thread!
Thanks to Kar Qi and Kellyn for writing the little card / letter / whatever!!!
Thanks for the 100 over Facebook wall posts!!! Sincere or not, whatever la at least you took the effort!
Thanks to Desmond, Zhi Leong, Eugene, and apparently Zul for that BIRTHDAY STACK. I am now mentally scarred for life.
Once again thanks to Desmond, Eva, Christel, Casey, Chandra, Adeline, Nisa, Shoba, whoever AIYA EVERYBODY LA for that birthday cake surprise!!!
To show my gratitude here are a few hearts for you


♥♥♥
love you many many
I have amazing friends ;_;
Well enough of that cheesy shit it's
PRESENTS TIME!!!
Anyway the first gift I'm going to post is from Sophia. She gave 2 in fact!
A FREAKING WEBCAM!!!!!!!!!!!!!!!!!!!!!!!!!!!!!!!!!!!!!!!!!!!!
I can finally go on Chatroul... nothing.
Actually I asked her to get me a webcam because she last time keep asking me to video call with her but I don't have webcam!!! So I tell her get for my birthday!
Then she keep on NO MONEY NO MONEY even though she has a freaking LV Wallet.
I didn't think she'd buy me one anyway. BUT SHE DID!!!!
And a little sign of what she says is "totally me". You also okay? Say people say yourself!
The gift is actually one of the last for me to receive though!!!
I posted it first because she told me to do so since she's so shameless.
But hey she got me a webcam!!! If I didn't wish for it she said she would have gotten me a BEYBLADE!
Anyway since I have already fulfilled her "criteria" I shall continue.
The Hello Kitty cake they bought me on the 22nd!
So cute right? But actually I feel quite guilty leh... I scared the cake very expensive then they had to fork out a lot of money. And they refused to tell me the price!
The cake was nice nonetheless.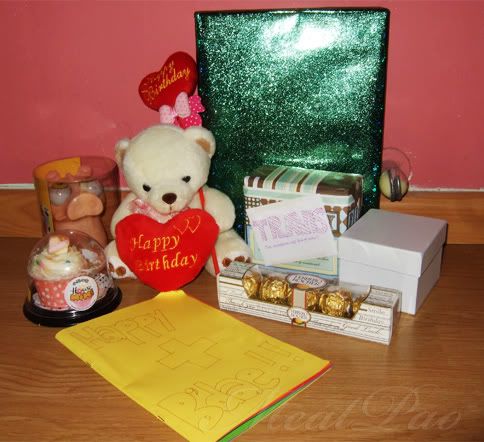 First batch of gifts... kind of.
From the left to right:
Edrie's little cupcake which I have obviously eaten already
Khadijah's babi behind the cupcake which is like a stress ball then when you squeeze the eyes will pop out!
Jannah's sweet little bear bear
Wei Yang sir and Cin Lee ma'am's Ferrero Rocher
And lastly a little booklet from the Red Cross NCOs with all their birthday wishes for me!!! Omg I'm so touched ;_;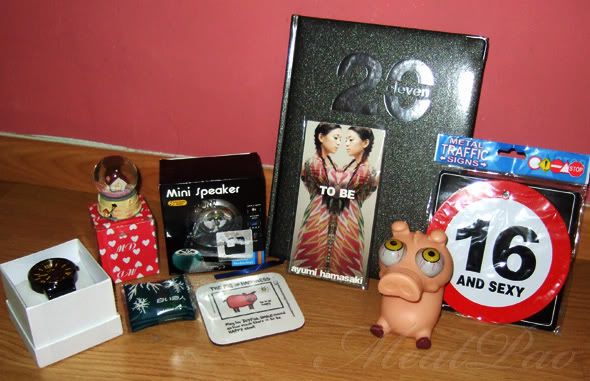 Second batch of gifts + unwrapped gifts from first batch
From left to right:
Desmond's totally awesome watch
Casey's cute little snowglobe
Gerald's SHIROI KOIBITO LMAO. Anyway it expires in March so nevermind.
Eva's mini-speaker + babi coaster!
Philana's 2011 scheduler book. Is that what you call it? Anyway it's also a Christmas present from her because "it's expensive!" so she didn't buy 2 presents LOL
Jia Rong's TO BE single!!! My first ever Ayu 3-inch single!
Khadijah's pop-eye pig without its box
Edrie & Khadijah's 16 AND SEXY SIGN which I forgot to include in the first batch one.
Very funny hor
Anyway sorry Christel I forgot to take a picture of your present!!! She gave me this Shrilling Chicken thing where you press the chicken got sound come out one! Can disturb people with it hahahahaha
Calvin Klein ~eau de toilette~ from French! And also a bottle of body wash.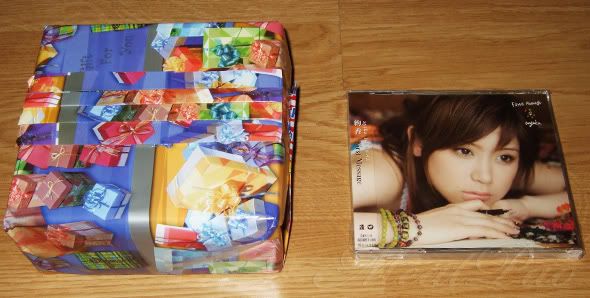 Sophia's gifts before they were unwrapped and Karen gave me ayaka's First Message!
Last but MOST DEFINITELY NOT LEAST...
From my mother.
The picture says it all!
And that's all for my presents! Once again
THANKS TO EVERYONE THAT MADE MY BIRTHDAY THIS YEAR AN AWESOME ONE!!!
Yay I am totally SEXTEEN! I mean sixteen.
And before I end this post I just need to fulfill buay paiseh Sophia's final request for her gifts:
"then put my pic as the first one"
"and the last one also."
"to present to people and to remind them once again"
That's what she said!