Intro
|
Part 1
|
Part 2
|
Part 3
|
Part 4
|
Part 5
|
Part 6 | Part 7
| Part 8
| Part 9
|

Part 10
Day 10
6 November
Home sweet home! Ok la home was still quite far away because our flight was only going to be at 6pm.
We didn't have any time to shop outside or do anything because we had to catch the train to Narita Airport ASAP!
Toasted bread with butter for breakfast.
Now what did I say about the hotel room being just like a house on its own? They even provided a toaster with bread and butter in the mini-fridge! (free)

The bread there is so thick they'd give Gardenia and Bonjour a run for their money. I think they're around twice the normal thickness, slightly smaller than 1 inch I guess.
Also if you read Part 9 you'd know that I had 2 big bags to carry along with one small bag and a slingbag.
I literally had to carry all the heavy bags by myself and WALK all the way to the specific train station to the airport. And it wasn't very near! I swear I almost died.
In fact, if my estimation is accurate, I think we almost walked 1km.
And later on at the airport I found out that each big bag I carried weighed...
10kg.
Which means I carried

20kg

worth of things from the hotel all the way to the train station.
SHOCKING OR WHAT?
I can carry more than 10kg with one hand maaaaan!!! What can I say? I am thoroughly impressed!
I know 10kg is like nothing to some of you but IT IS FOR ME OKAY?
Considering that the most physically demanding activity I've done in recent months is carrying a box of shoes.
And that the average amount of physical activity I do per day is really equivalent to carrying a box of Ferrero Rocher.
Also one bag contained all of my clothes and stuff whereas the other one contained all my shopping.
Which means I bought 10kg worth of things!!!
Siao or not?
Not very cheap if you want to go to the airport for fun over there.
The entire journey took around 1 and a half hours and the trains are just like the MRTs here! With cushioned seats la. I was expecting those where the seats can be turned 180 degrees one.
Also I sat beside this American woman who was SO SCARY!
Nothing was happening until at this stop, when this Japanese lady came in.
She was wearing a red tank top and had completely blonde hair, which, by the way, is commonplace in Japan.
I could then distinctly see from the corner of my eye the American woman
taking out her camera and trying to discreetly zoom in on her!!!
Walao eh how come so stalker-ish one?
I don't know whether she took a picture of her or not but she kept the camera zoomed in on her, examining her every action!!! If I'm not wrong she was adjusting her hair and makeup.
Then I almost died because the American woman turned to see if I was watching but thanks to my l33t skills I managed to turn the other way just in time.
After a while she stopped and looked at her own camwhoring pictures instead. She got LV luggage some more.
Anyway when we reached the airport we walked for a while before my misery carrying the bags ended because there were finally luggage trolleys around!
Good lord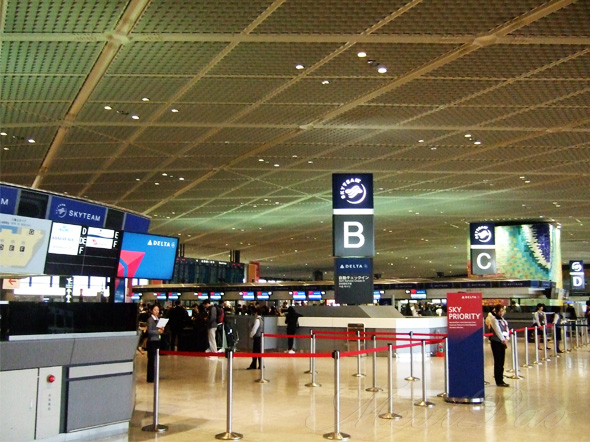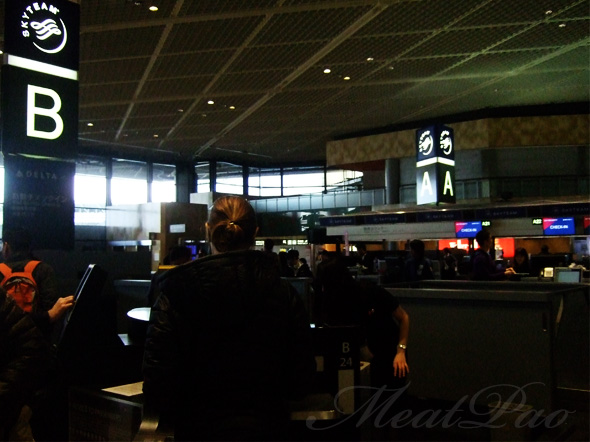 Checking in our baggage
Also, we found out when we reached there that
OUR FLIGHT WAS DELAYED BY 2 HOURS!!!
I don't know why but somehow I felt happy. I guess because there was more time to shop at the airport.
600yen meal vouchers to compensate for the delay.
So after checking in our luggage we went to have lunch~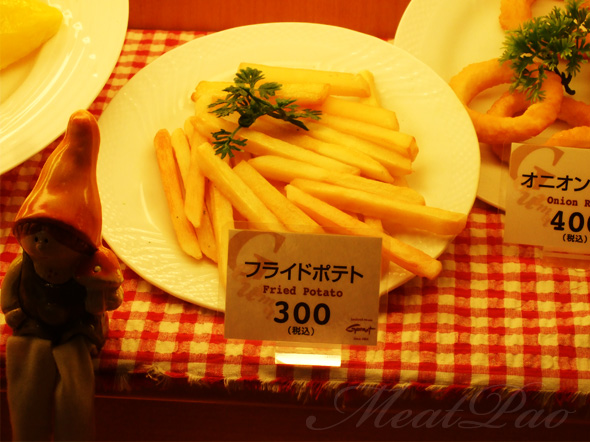 Because the Japanese don't know what fries are
Some lulz Engrish
Looks nice but 850yen for 3 chicken wings?!
Anyway what I got for lunch was undeniably
one of the best meals I've ever had in Japan.
Cream Cod Seafood Pasta
LOOK AT THE AMOUNT OF CREAMY GOODNESS!!!
With Parmesan cheese which I added a shitload of inside and Tabasco sauce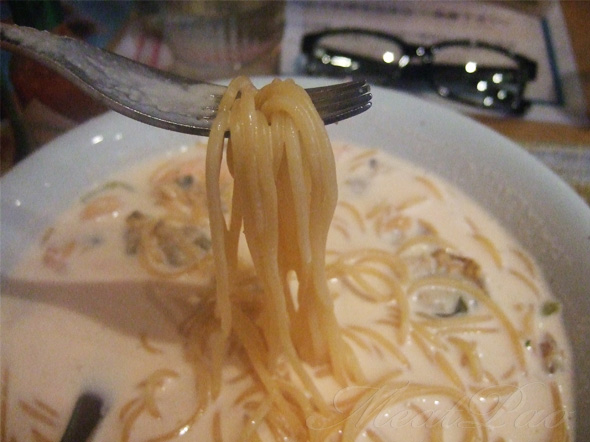 LOOK HOW BIG THAT IS!
And the seafood was really fresh. If I were given a chance to eat this for every meal for 1 whole month, I WOULD GLADLY ACCEPT IT.
After our immensely satisfying meal
(for me at least)
we went to do some shopping around the airport!
Vie de France! You have to say it with the French accent.
At a random CD shop.
Why hello there Kaela Kimura!
I ended up buying a few souvenirs for friends, 5 really awesome graphic tees, 2 more Japan-related T-Shirts
(one being I ♥ Japan this time)
, 2 pairs of boxers from Uniqlo, another pair of boxers from somewhere else, and a graphic hoodie. I also bought a magazine and... remember the neh neh I saw in Hokkaido? Bought that too. I DID BUY IT AFTER ALL! 8D
I didn't expect myself to buy so many things from an airport.
And remember how I've mentioned many times before how 1yen coins are fucking useless?
The store that I bought the magazine from had a sign there clearly stating that it was 700yen.
So I managed to have 700yen exactly in coins so I can just pay without getting back any change.
But alas! Its actual price was actually
699yen
and I got back
1yen
as change.
WHAT DO YOU WANT ME TO DO WITH THE 1YEN??!?!?!?!?!?!!
I wanted to tell the lady to keep the change but I didn't think she knew English.
Oh well! Anyway at the end of the day I had 8 1yen coins in my wallet. 8yen! Not even 10!!!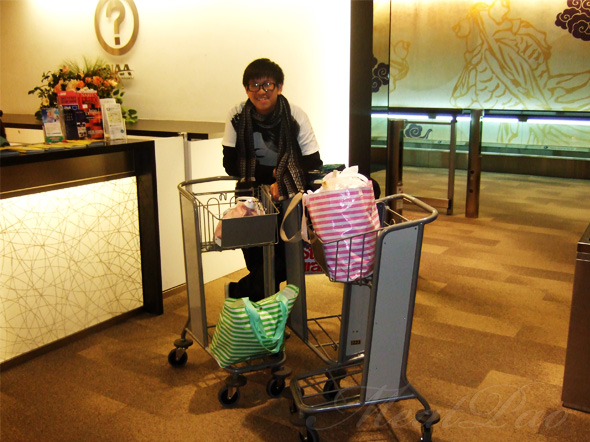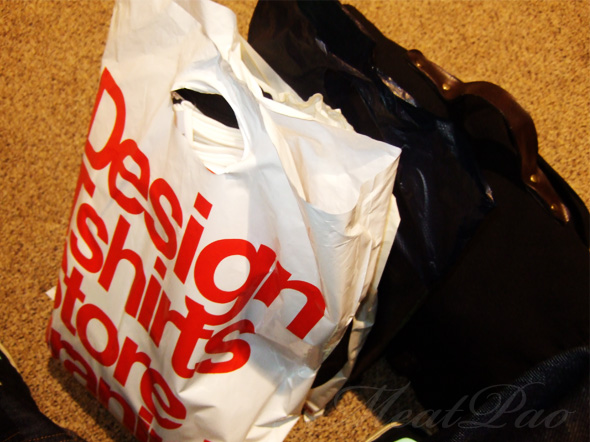 My shopping
EVERYTHING'S GONNA BE ALLRIGHT.
A couple of camwhoring pictures while waiting for our boarding time
I drink Tomato juice because I am a health freak like that.
Ice cream!
Stored at freaking -22 degrees
As you can see, the Japanese aren't always very considerate.
(See potato chips bag in Newspaper bin)
Then again, it could be a Singaporean who did that!
Hermes Shoeeeessss. So heavenly that it has to sit on clouds.
Boarding Pass
We both look really weird
From here, we can conclude that bunnies prefer red meat to white meat.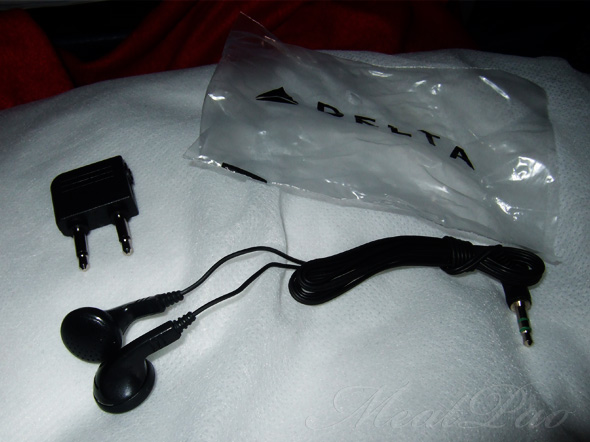 Earphones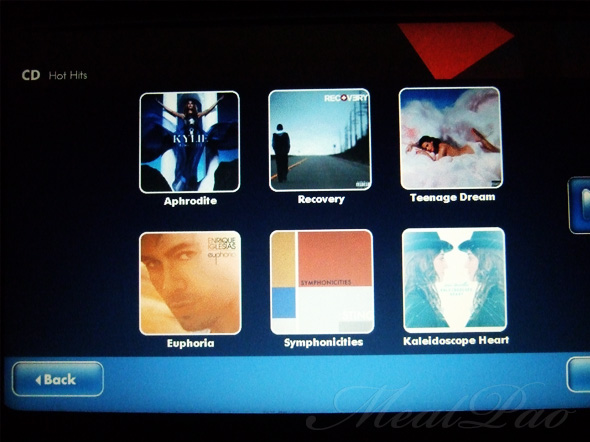 Music!
I watched 2 movies while on the flight.

Date Night
which is FUCKING HILARIOUS! You should totally watch it if you haven't.
Also watched
Sex And The City.
In-flight meal. This time I definitely chose the better one!
It was a choice between beef or seafood. The seafood one was the same except instead of beef only got a few measly prawns and some tofu!
I have to say that the salad is really nice. It was so good I ate Eva's share as well! Not that I'm mean enough to steal other people's food okay she just didn't want it.
I also watched parts of The Exorcist. I said parts and not the whole movie because the only interesting parts were the lulz scenes with the possessed girl LOL! I am sadistic like that.
AND WE'RE REACHING HOME!!!
Took our luggage and quickly got our ass out of the airport to go home and sleep.
It was already around 2am when we reached Singapore!
While we were leaving I some more suay suay kena by the security personnel there!
I was so scared man. Not that I had drugs or anything in my bag but suddenly someone ask you to scan your bag you also scared what!
I asked why the others didn't have to scan and they said they just choose random people to scan. Wth like that also can kena me.
Bye Changi!
And we finally reach home! By home I really mean Eva's house...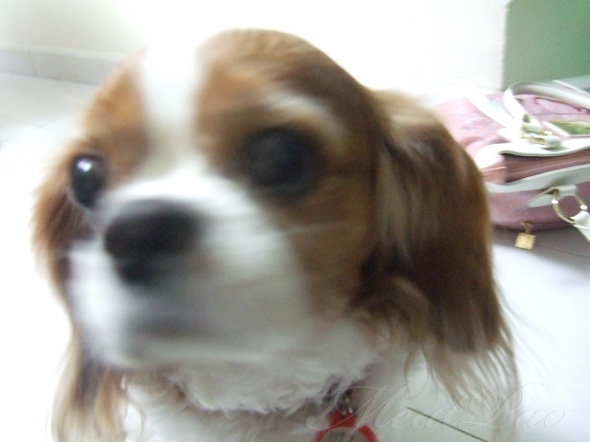 ...to a really happy Ashley!
Awww
I went to bathe and then went to sleep immediately after. Was so tired!
Things I bought at the airport. You can't keep your eyes off the neh neh can you?
But just to clear things up in case you think I'm some sort of pervert I bought it because it's just so funny okay!
You think I nothing better to do really go use as stress ball? You don't come across this everyday in Singapore!
---
~SHOPPING~
(2010.10.27) Aoyama Thelma - LET'S PARTY! / 23
(2010.11.03) Yuna Ito - Mamotte Agetai
(1999.11.10) ayumi hamasaki - LOVEppears (2CD)
(2004.03.31) ayumi hamasaki - Moments (CD+DVD)
(2000.02.09) ayumi hamasaki - Fly high (Limited Release)
(2000.04.26) ayumi hamasaki - vogue
(2000.12.13) ayumi hamasaki - M
(2001.03.28) Utada Hikaru - Distance (First Press | Picture Disc)
(2001.11.28) Utada Hikaru - traveling
(2002.05.09) Utada Hikaru - Sakura DROPS / Letters
(2007.08.29) Utada Hikaru - Beautiful World / Kiss & Cry
(2004.12.08) Kaela Kimura - KAELA
(2006.03.08) Kaela Kimura - CIRCLE (CD+DVD | Limited Edition)
(2007.02.07) Kaela Kimura - Scratch (CD+DVD | Limited Edition)
(2006.02.22) DREAMS COME TRUE - THE LOVE ROCKS (CD+DVD | Limited Edition)
(2007.01.24) Yuna Ito - HEART (CD+DVD | Limited Edition)
(2010.07.28) Aoyama Thelma - LOVE!2 -THELMA BEST COLLABORATIONS- (CD+DVD | Limited Edition)
(2006.06.14) Angela Aki - Home (CD+DVD | Limited Edition)
(2004.08.15) Mika Nakashima - Oborozukiyo~Inori (Limited Release)
Koda Kumi LIVE TOUR 2010 ~UNIVERSE~ Shopping Bag and Pamphlet
T-Shirts.
Left out the Marimokkori T-Shirt!
And one thing you cannot deny is how awesome that graphic tee is. I'm talking about the one with Snow White _|_-ing to the witch HAHAHA! I know right?
I wore that on Christmas.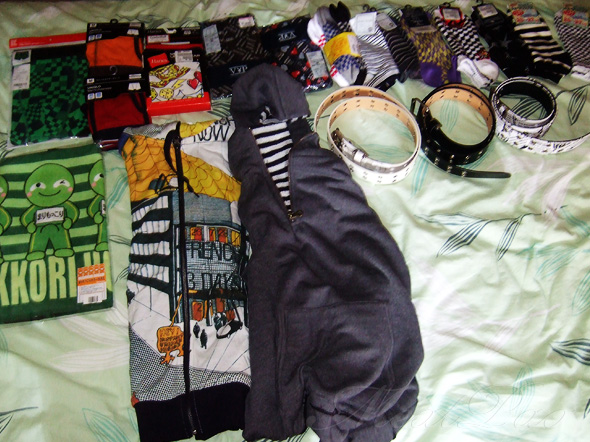 Everything else clothes-related. What did I say about me going on a sock-buying frenzy? That's 10 pairs of socks in your face.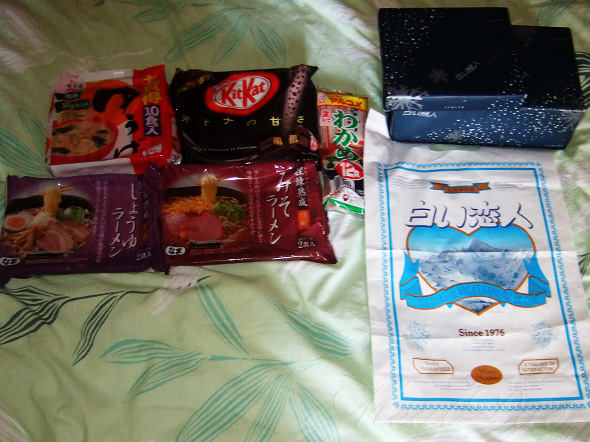 Food.
Instant ramen, instant miso-soup, dark chocolate kit-kat and Shiroi Koibito!
Shiroi Koibito unwrapped.
And I didn't know the most expensive one had a special metal box housing the biscuits!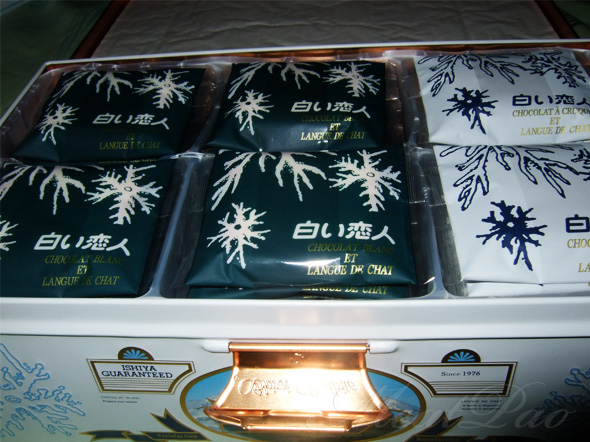 Ter ner it's like a treasure chest of awesome goodness.
You know what else is awesome?
Shoes & Shoelaces.
You can probably guess that I bought the yellow shoelaces just for the yellow and black shoes.
Speaking of shoes, did I mention that Eva bought
6 PAIRS OF SHOES?
She's crazy la.
But the funny thing is how the cost of the 6 pairs of shoes combined is still less than the cost of my 2 pairs of shoes combined LOL.
Everything else.
I bought that pair of chopsticks from a 100yen shop.
Because the top actually reads
"THE KING OF KINGS (picture of red crown)
the king wore a crown.he is the king of kings."
The moment I saw this I was
SOLD.
I WORE A CROWN. I AM THE KING OF KINGS!!!
This is what you'd get from no lifers like me.
Thus, on that lifeless note, I conclude
THE END OF MY JAPAN TRIP!!!
That sure was exhausting for me to write and for you to read!
Nonetheless I hope you liked what you read and if you've read everything from Part 1 to Part 10 already, READ IT AGAIN!
Also, if you haven't noticed, this is like, the longest series of posts I have ever done and I feel very proud of myself. Did this much in only 2 months! I should get some kind of award.
Have a nice day!
Intro
|
Part 1
|
Part 2
|
Part 3
|
Part 4
|
Part 5
|
Part 6 | Part 7
| Part 8
| Part 9
|

Part 10