Intro
|
Part 1
|
Part 2
|
Part 3
|
Part 4
|
Part 5
|
Part 6 | Part 7
| Part 8
|

Part 9

| Part 10

Day 9
5 November
It was a sad day...
...because it was our last full day in Japan!
We revisited some of the places that we went before on our previous trip such as Asakusa and Shibuya. I think it's going to be shit boring for you. Don't say I didn't warn you!
We woke up at 9:30AM to have breakfast in the room once again! With some bread bought the night before.
I had this custard bun from this bakery which was apparently its #1 best seller. I didn't see what was so special until I bit into the area with custard and jizzed in my pants.
Then we left the place for our first destination which was Asakusa!
I wonder what would be the "other purpose" except drying our hair. ;) ;) ;)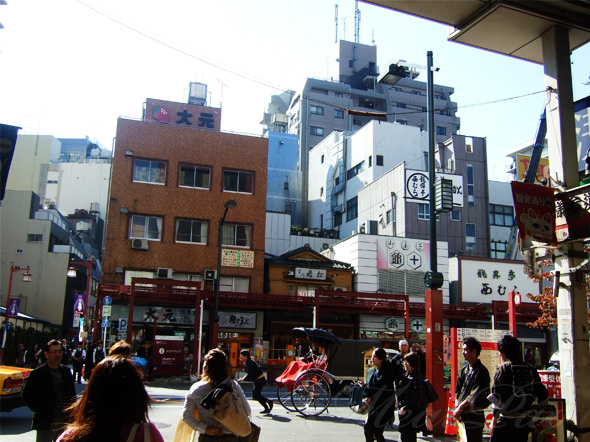 Anyway for the past few days we've been looking for Takoyaki but cannot find leh!
I just felt that I MUST EAT TAKOYAKI IN JAPAN AGAIN and look!
WE DID!!!
Does it look good or what?
I really like how the outer part is like totally crispy and hard trapping all the heat inside!
So when you take your first bite you can see all the smoke coming out from inside.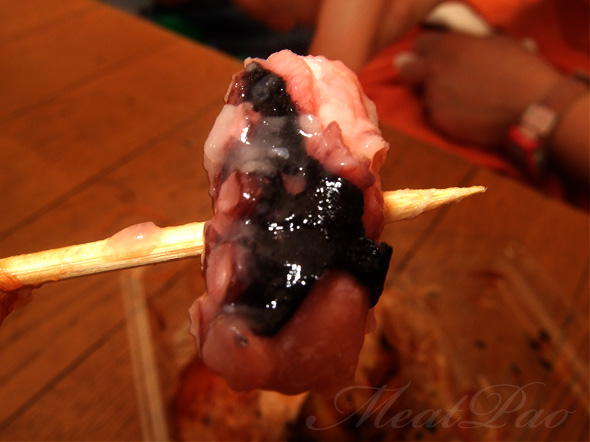 Octopus is nice! For some reason the octopus was more tender there. The ones I eat in Singapore are a bit more chewy. Level of freshness maybe.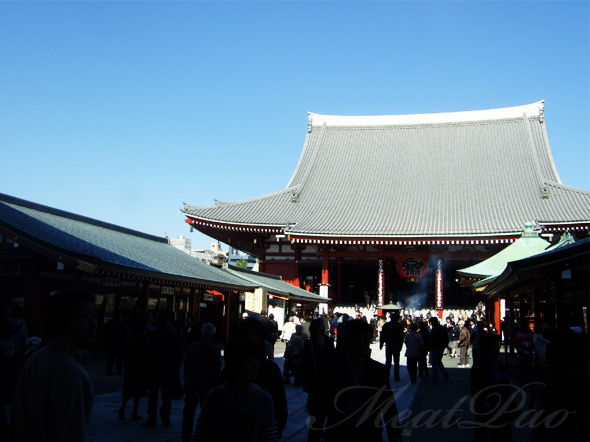 We went to this smoky area with joss sticks where the air will supposedly bless you so I loudly exclaimed "I FEEL SO ENLIGHTENED!!!" and got laughed at by a few Caucasians lol!
Also bought an I ♥ Tokyo T-Shirt there where I was serviced by extremely unfriendly staff. Why look who's pissy today!
So crowded want to take photo also so hard!
After that we took a short visit to Ginza because we wanted to act rich and absolutely fabulous by looking at all the expensive brands but we didn't buy anything anyway.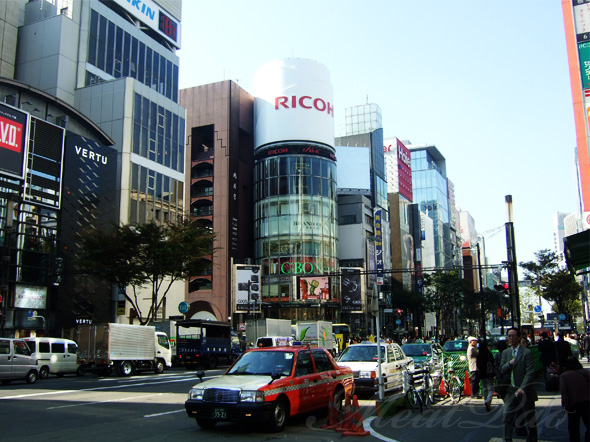 The only picture I snapped there.
After that we took the train again to Shibuya! How exciting.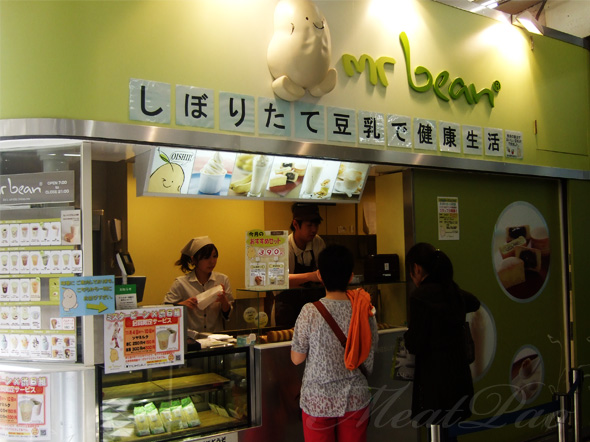 And who would have thought that Mr Bean would actually have an outlet in Japan?!
Godpa tried the pancakes and unfortunately according to him they sucked! Oh well.
No Music No Whisky, orly? And hi ELT
We went for lunch at this random place somewhere which I cannot remember. I only remember they had one entire floor all filled with restaurants.
My tempura udon with rice and other things. I love how generous they were with the amount of yellow pickled radish because I love those!
(hidden behind the rice)
The second 109 building.
We went to both Shibuya 109s and everything was too hardcore for me so I didn't buy anything. Can't remember what Eva bought though.
And now comes the absolutely shit boring part!!
Tsutaya!!!!!!

Bought this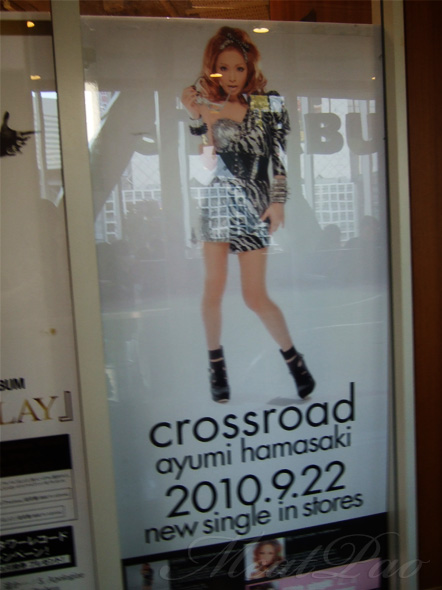 This is shit awesome man! Didn't expect Tsutaya to sell tour merchandise :o
They even had a little notebook hung at the side to write something to Kuu for her 10th anniversary!
We did but I don't want to post it up here because my handwriting is exceptionally shitty when I have to write standing up with no table or anything to write on.
Why hello there Hikki!
I ended up buying 2 CDs; 1 for myself and 1 for Jiarong. Also bought 2 of the UNIVERSE Tour goods as well as a pair of Sony earphones.
Sad! If you all don't know yet HMV closed down in Japan in August last year. How apt that a "dead" Ken Hirai is right below the sign.
So after our shopping we went back to Ikebukuro
(time flies shit fast!)
to see what they sell over there because we never really bothered to look around there.
I ended up buying... 2 boxers... from the Playboy Collection at a departmental store.
500yen each only what!
After that we went for dinner already. We decided to go back to a ramen restaurant that we also went to for our 2009 trip!
My god Eva and I doing almost the same pose was PURELY COINCIDENTAL!!!
Side orders of deep fried chicken and awesomely juicy gyozas.
My curry ramen!
Check this shit out man
When we finished our meal we actually experienced a
MINI EARTHQUAKE!!
How exciting is that?
We were just sitting there and then suddenly I felt the ground shake! Sadly it was so small-scaled and lasted for a few seconds only.
Manboo! What the fuck?
Before we headed back to the hotel I went to this shop somewhere and bought like, 10 000yen worth of things because I am crazy like that.
I ♥ Tokyo T-Shirt from Asakusa
All my other shopping.
Pullover hoodie, 3 pairs of socks, Sony headphones, a belt, 2 CDs, 2 boxers from the Playboy Collection as mentioned, another pair of boxers, random nice looking bag and UNIVERSE tour bag + pamphlet.
And since it was our last night already we had to pack everything into our bags!!!
Check out all my stuff: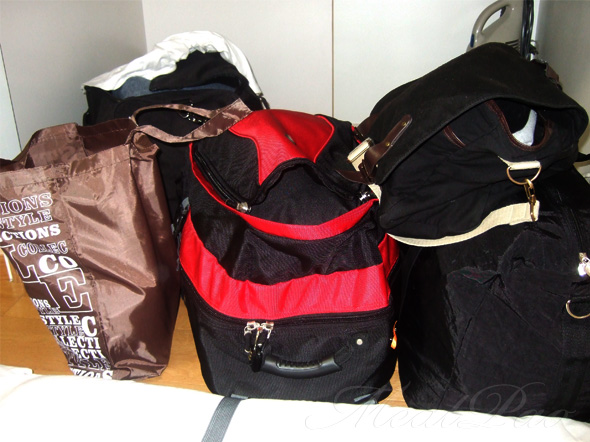 Bam!
2 BIG BAGS FULL OF THINGS!!!
And there were also things inside the DAISO bag and the slingbag I carried okay.
Sigh I remember how for that night I kept whining about how much I'd miss Japan.
The shitty part is how I not only missed Japan, but missed Singapore at the same time! Wth just cut me into half already.
But for lazy people like me sleeping comes before emotional feelings so I went to sleep anyway.
And that's all for Part 9!!
For the
FINAL
part where you can finally be liberated from all this shit, you will find out how much all my baggage weighed
(you'll be utterly shocked not by the weight but how I managed to have the strength to carry them)
and also see all the shopping that I bought!
See you then!~
Intro
|
Part 1
|
Part 2
|
Part 3
|
Part 4
|
Part 5
|
Part 6 | Part 7
| Part 8
|

Part 9
| Part 10