Hey guyzzz like, I am so happy because like yesterday, I totally saw like, BARBIE MAAAAAN.
No really I freaking saw Barbie.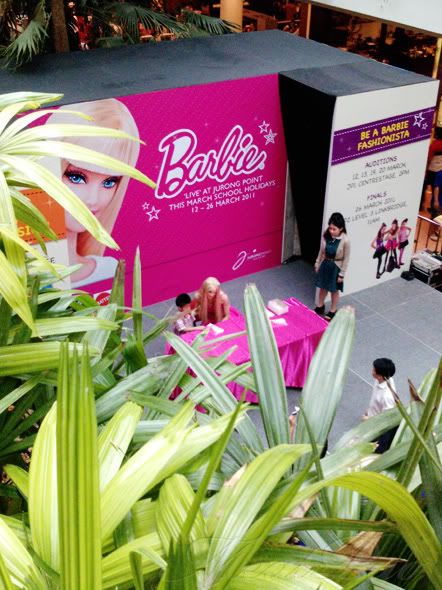 Omgomgomgomg
This was the closest I could get to her. I would've taken a picture with her but doing so would take away both my dignity and pride.
Anyway, isn't Barbie like 51 or something? They should have gotten some fat pedophile to appear on stage instead and scare all the kids HAHAHAHA.
(or Madonna wearing sleeveless)

Either that or that woman just went for shitloads of surgery. I wonder how much she's being paid though to humiliate herself like that!
I managed to see Barbie because I went to watch Rango with Edrie, Khadijah and Shiela! It was a great movie, contrary to what Christel apparently thinks.
(according to Philana)
Tsk.
Mr Jaya that day also treated all the YOG hosts from last year to Swensens for dinner!
Seriously man Mr Jaya has to be one of, if not the best, teacher(s) in JWSS. He definitely doesn't deserve the criticisms I've ever heard of him from others :(
In other news though the Secondary 3 Red Cross NCOs-to-be also just finished their lovely once-in-a-lifetime NCO Camp! It was definitely a once-in-a-lifetime opportunity for me seeing how I wasn't chosen to be a mentor in this year's camp which made me hide in a corner and cry.
(Just kidding in case anyone actually takes this seriously)
But at the same time, even if I did go I probably wouldn't have discovered the new goddess of the music industry by the name of Rebecca Black with her Friday song and/or video.
If you haven't watched it yet, it's the same as revealing where you live. In a cave. Under a rock.