By Vesak Party I really mean staying at home doing nothing! The benefits of not being religious. But Happy Vesak Day to all Buddhists!
Anyway I went to visit Dr Ho for my braces once again and I'm glad to announce I don't have to wear elastics this month!!! Woohoo!!! Goodness knows how many elastics I have ingested. Yea because sometimes I'm so lazy I don't even want to take them out when I eat.
Right now you must be really grossed because it looks like I didn't brush my teeth but I did. I can't help it the clear bands make my teeth look dirtily yellow.
I think I better make this my last month of putting on clear bands because I've consumed too much curry for my own good staining everything HAHA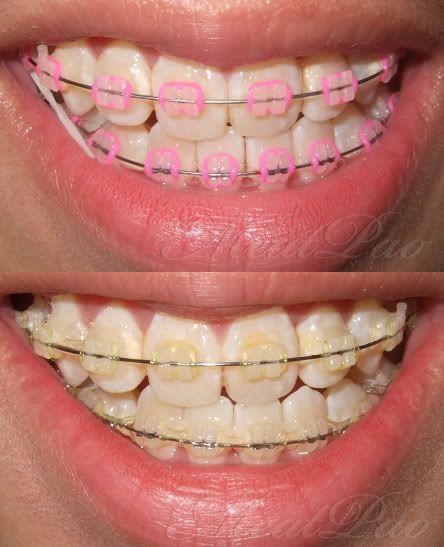 Teeth for the next few months will be progressing very slowly since it takes quite a while for the jaw / teeth alignment whatever to adjust itself. But I just realised I'm making progress! The centre line (between front teeth) is starting to become more aligned for both rows.
Would probably blog hopefully in 2 days' time? I also have Cross Country this Friday, which I have been asked to do first aid duty again! No running for me woohoo!!! Yea I'll never get to experience cross country again but I can't be bothered honestly.