I am flying off for a vacation again and I feel that it is of utmost importance to inform you about it every time mainly because nobody bothers to listen to my crap.
So yes
I'M FLYING TO THE US!!!
JUST CALL ME OPRAH CUZ I'M ABOUT TO GET FAT!
This will be the longest vacation I've ever had which lasts around 21-22 days, from 17 November to around 8 December
(can't remember exact date)
. So excited!!! We will be spending Thanksgiving at Eva's aunt's house who resides there in Maryland and go for the Black Friday sales, which I never even gave a shit about!
Here are some pictures I took when I went to get my flu vaccination, and guess who are the doctors working in the clinic?
Dr Tan Cheng Bock!!! Unfortunately, he wasn't in when we went. In fact I came here for my previous flu vaccination for the 2009 trip which was also not administered by him. We are not fated to meet :(
I guess this means I can't break the news to him that I am actually his son because when the both of us smile, our eyes can't be seen. Or maybe I'm just Asian. ANYWAY
Here's my fucking fat arm!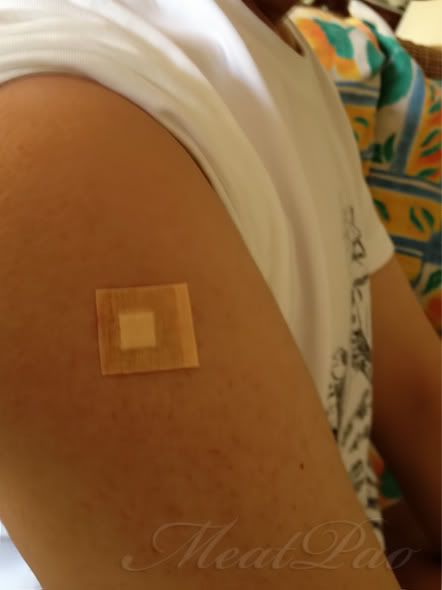 Talk about a KFC chicken wing. Anyway, I am showing you my arm not only to show you how brave I am for surviving an injection but also to prove to you that I am definitely not insecure about myself and at the time of writing I am not shaking and crying because of the several harpoons being pierced into my heart for showcasing my pig trotter-like arm. ... ... *wrist* *penknife* *down the river not across the stream*
I wanted to schedule some posts up to keep this blog active during my holiday but unfortunately, because I have a very tight schedule which mainly consists of me lolling in bed, I didn't manage to complete anything on time.
Fortunately, however, I will be able to blog during my spare time when I have access to Wi-Fi so you can expect some things to be up during this time! But no promises made! Oh ho ho ho ho!
I would also like to announce that as of now, it is TOO LATE to ask me to buy things for you!!! Hahahahaha! Shove it up your arse! I'll buy things for people I wanna buy things for!
In the meantime, just to tide you over, here are some pictures I took from a LONG LONG time ago, way back in August or something.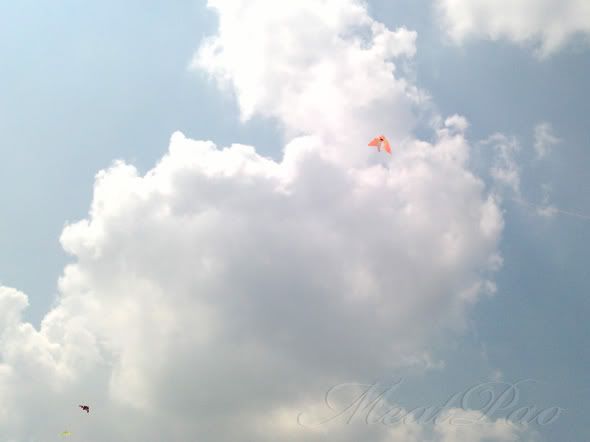 Went Kite-flying!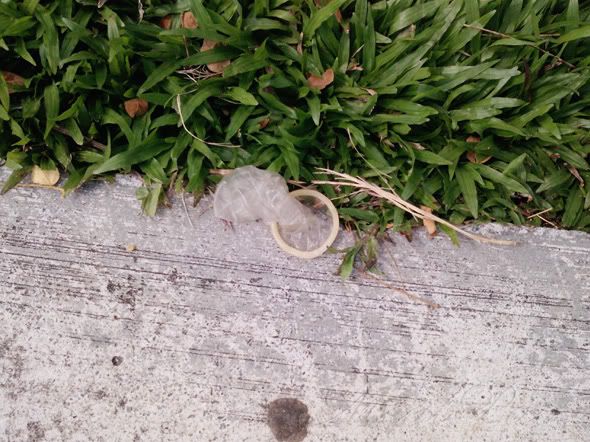 A condom I happened to chance upon at Jurong Central Park. But nothing much was happening when I went there recently at 3AM leh!
And in case you are wondering if there was any semen inside, yes, there was, and I know because I checked, being the pervert that I am known so well for. (I didn't touch the thing la, so I don't have syphilis.)
My flight is at 6am so I have to be at the airport at 4am, sigh. And the icing on the cake is that I have to travel to Japan which takes 7 hours followed by
another
flight to Atlanta, which takes
13 HOURS
.
Say hello to my sore butt, and I'm not even getting backdoor action. Go figure.