2010
|
2011/6
(because recycling banners is always a good idea)
Singles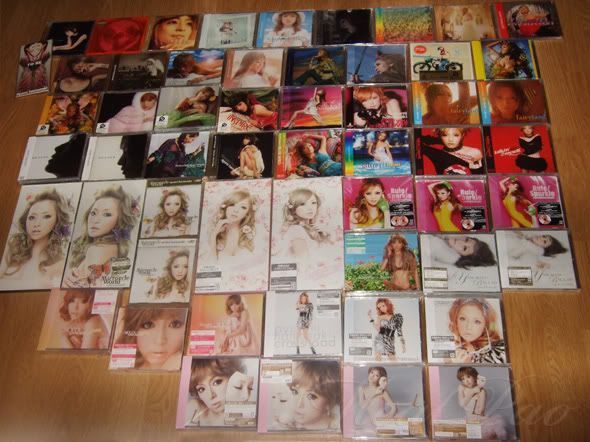 [JP] ayumi hamasaki - TO BE (8cm single)
[JP] ayumi hamasaki - A (Blue Disc)
[JP] ayumi hamasaki - Fly high (Limited Release)
[JP] ayumi hamasaki - vogue
[JP] ayumi hamasaki - Far away
[JP] ayumi hamasaki - SEASONS
[JP] ayumi hamasaki - SURREAL
[JP] ayumi hamasaki - AUDIENCE (Limited Release)
[JP] ayumi hamasaki - M
[JP] ayumi hamasaki - evolution
[JP] ayumi hamasaki - NEVER EVER
[JP] ayumi hamasaki - Endless sorrow
[JP] ayumi hamasaki - UNITE!
[JP] ayumi hamasaki - Dearest
[JP] ayumi hamasaki - Daybreak (Limited Release)
[JP] ayumi hamasaki - Free & Easy (First Press | Picture-labelled disc)
[JP] ayumi hamasaki - H (Limited Edition | Digipak)
[JP] ayumi hamasaki - &
[JP] ayumi hamasaki - forgiveness
[JP] ayumi hamasaki - No way to say
[JP] ayumi hamasaki - Moments (CD+DVD)
[JP] ayumi hamasaki - INSPIRE (CD Only)
[JP] ayumi hamasaki - CAROLS (CD Only)
[JP] ayumi hamasaki - STEP you / is this LOVE? (CD Only)
[JP] ayumi hamasaki - fairyland (CD+DVD)
[JP] ayumi hamasaki - fairyland (CD Only)
[JP] ayumi hamasaki - HEAVEN (CD+DVD)
[JP] ayumi hamasaki - HEAVEN (CD Only)
[JP] ayumi hamasaki - Bold & Delicious c/w Pride (CD Only)
[JP] ayumi hamasaki - Startin' / Born To Be... (CD Only)
[JP] ayumi hamasaki - BLUE BIRD (CD Only)
[JP] ayumi hamasaki - glitter / fated (CD Only)
[JP] ayumi hamasaki - talkin' 2 myself (CD+DVD)
[JP] ayumi hamasaki - talkin' 2 myself (CD Only)
[JP] ayumi hamasaki - Mirrorcle World (CD+DVD | Jacket A | First Press | Deluxe Box)
[JP] ayumi hamasaki - Mirrorcle World (CD Only | Jacket B)
[JP] ayumi hamasaki - Mirrorcle World (CD+DVD | Jacket C | First Press | Deluxe Box)
[JP] ayumi hamasaki - Mirrorcle World (CD Only | Jacket D)
[JP] ayumi hamasaki - Days / GREEN (CD+DVD | First Press | Deluxe Box)
[JP] ayumi hamasaki - GREEN / Days (CD+DVD | First Press | Deluxe Box)
[JP] ayumi hamasaki - Rule / Sparkle (CD+DVD | First Press | Picture-labelled disc)
[JP] ayumi hamasaki - Rule / Sparkle (CD Only | Jacket B | First Press | Picture-labelled disc)
[JP] ayumi hamasaki - Rule / Sparkle (CD Only | Jacket C | First Press | Picture-labelled disc)
[JP] ayumi hamasaki - Sunrise / Sunset ~LOVE is ALL~ (CD+DVD)
[JP] ayumi hamasaki - You were... / BALLAD (CD+DVD | First Press | Alternate cover)
[JP] ayumi hamasaki - You were... / BALLAD (CD Only | First Press | Alternate cover)
[JP] ayumi hamasaki - MOON / blossom (CD+DVD)
[JP] ayumi hamasaki - MOON / blossom (CD Only)
[JP] ayumi hamasaki - blossom / MOON (CD Only)
[JP] ayumi hamasaki - crossroad (CD+DVD | First Press | Poster)
[JP] ayumi hamasaki - crossroad (CD Only | Jacket B | First Press | Poster)
[JP] ayumi hamasaki - crossroad (CD Only | Jacket C | First Press | Poster)
[JP] ayumi hamasaki - L (CD+DVD | Jacket A | First Press | Poster)
[JP] ayumi hamasaki - L (CD+DVD | Jacket B | First Press | Poster)
[JP] ayumi hamasaki - L (CD Only | Jacket C | First Press | Poster)
[JP] ayumi hamasaki - L (CD Only | Jacket D | First Press | Poster)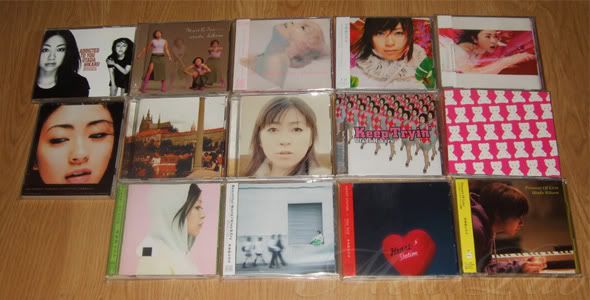 [JP] Utada Hikaru - Addicted To You
[JP] Utada Hikaru - Wait & See ~risk~
[JP] Utada Hikaru - Can You Keep A Secret?
[JP] Utada Hikaru - SAKURA DROPS / Letters
[JP] Utada Hikaru - traveling
[JP] Utada Hikaru - FINAL DISTANCE
[TW] Utada Hikaru - Be My Last (CD+DVD)
[TW] Utada Hikaru - Passion (CD+DVD)
[JP] Utada Hikaru - Keep Tryin'
[JP] Utada Hikaru - Boku wa Kuma (Special Packaging)
[JP] Utada Hikaru - Flavor of Life
[JP] Utada Hikaru - Beautiful World / Kiss & Cry
[JP] Utada Hikaru - HEART STATION / Stay Gold (First Press | Stickers)
[JP] Utada Hikaru - Prisoner Of Love (CD+DVD)
[JP] Koda Kumi - feel (Limited Release)
[JP] Koda Kumi - WIND (Limited Release)
[JP] Koda Kumi - 4 hot wave (CD+DVD | First Press | Bonus DVD Content)
[JP] Koda Kumi - Cherry Girl / Unmei (CD Only | First Press | Sticker)
[JP] Koda Kumi - BUT / Aishou (CD+DVD | First Press | Bonus Track)
[JP] Koda Kumi - FREAKY (CD+DVD | First Press | Remixes)
[JP] Koda Kumi - Ai no Uta (CD+DVD | First Press | Bonus Track)
[JP] Koda Kumi - LAST ANGEL (CD+DVD)
[JP] Koda Kumi - LAST ANGEL (CD Only)
[JP] Koda Kumi - anytime (CD+DVD | Limited Release)
[JP] Koda Kumi - MOON (CD+DVD | First Press | Bonus Track)
[JP] Koda Kumi - MOON (CD Only | First Press | Bonus Track)
[JP] Koda Kumi - TABOO (CD+DVD)
[JP] Koda Kumi - TABOO (CD Only)
[JP] Koda Kumi - TABOO (Fanclub Edition)
[JP] Koda Kumi - stay with me (CD+DVD)
[JP] Koda Kumi x misono - It's all Love! (CD+DVD)
[JP] Koda Kumi - 3 SPLASH (CD+DVD)
[JP] Koda Kumi - Alive / Physical thing (CD+DVD | First Press | Bonus DVD Content)
[JP] Koda Kumi - Can We Go Back (CD+DVD | Limited Release)
[JP] Koda Kumi - Gossip Candy (CD+DVD | First Press | Bonus Track)
[JP] Koda Kumi - Suki de, Suki de, Suki de. / Anata Dake ga (CD+DVD | First Press | Bonus DVD Content)
[JP] Koda Kumi - POP DIVA (CD+DVD | Limited Release)
[JP] Koda Kumi - 4 TIMES (CD+DVD)
[JP] Koda Kumi - 4 TIMES (CD Only)
[JP] Koda Kumi - 4 TIMES (Limited Edition)
[JP] Koda Kumi - Ai wo Tomenaide (CD+DVD | First Press)
[JP] Koda Kumi - Love Me Back (CD+DVD)
[JP] Koda Kumi - Love Me Back (CD+Goods | Limited Edition)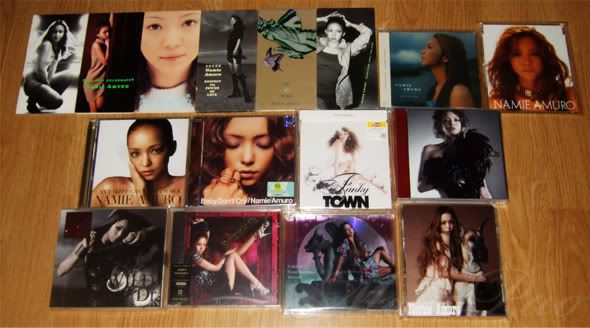 [JP] Namie Amuro - You're my sunshine (8cm Single)
[JP] Namie Amuro - CAN YOU CELEBRATE? (8cm Single)
[TW] Namie Amuro - I HAVE NEVER SEEN (8cm Single)
[TW] Namie Amuro - RESPECT the POWER OF LOVE (8cm Single)
[TW] Namie Amuro - toi et moi (8cm Single)
[TW] Namie Amuro - SOMETHING 'BOUT THE KISS (8cm Single)
[JP] Namie Amuro - NEVER END
[JP] Namie Amuro - WANT ME, WANT ME (CD Only)
[TW] Namie Amuro - CAN'T SLEEP, CAN'T EAT, I'M SICK / Ningyo (CD+DVD)
[TW] Namie Amuro - Baby Don't Cry (CD+DVD)
[JP] Namie Amuro - FUNKY TOWN (CD Only)
[JP] Namie Amuro - 60s70s80s (CD+DVD)
[JP] Namie Amuro - WILD / Dr. (CD+DVD)
[JP] Namie Amuro - Break It / Get Myself Back (CD+DVD)
[JP] Namie Amuro - NAKED / Fight Together / Tempest (CD+DVD | First Press | Special Packaging)
[JP] Namie Amuro - Sit! Stay! Wait! Down! / Love Story (CD+DVD | First Press | Postcard)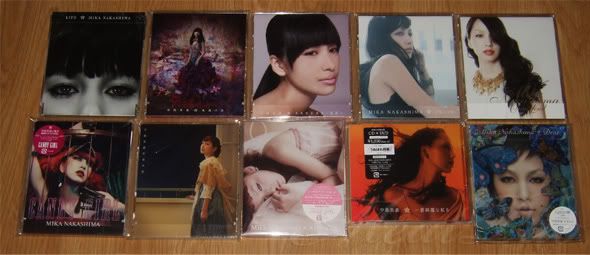 [JP] Mika Nakashima - LIFE (Regular Edition)
[JP] Mika Nakashima - Eien no Uta (First Press | Picture-labelled disc)
[JP] Mika Nakashima - SAKURA ~Hanagasumi~ (First Press | Picture-labelled disc)
[JP] Mika Nakashima - ORION (First Press | Picture-labelled disc)
[JP] Mika Nakashima - Over Load (First Press | Picture-labelled disc)
[JP] Mika Nakashima - CANDY GIRL (Regular Edition)
[JP] Mika Nakashima - Nagareboshi (First Press | Picture-labelled disc)
[JP] Mika Nakashima - ALWAYS (First Press | Picture-labelled disc)
[JP] Mika Nakashima - Ichiban Kirei na Watashi wo (CD+DVD | Limited Edition)
[JP] Mika Nakashima - Dear (First Press | Alternate Jacket Sleeve)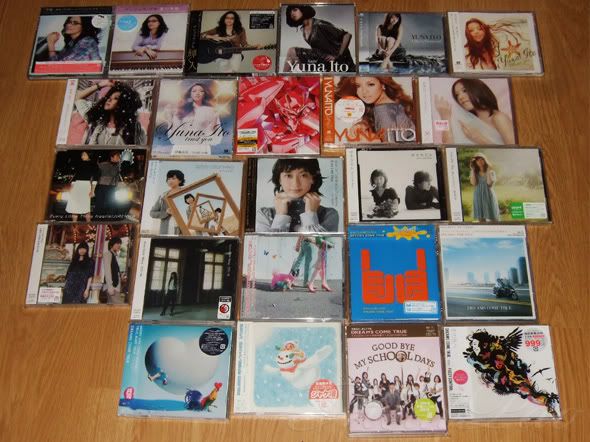 [JP] Angela Aki - Tegami ~Haikei Jyuugo no Kimi e~ (CD+DVD | Limited Edition)
[JP] Angela Aki - Ai no Kisetsu (CD+DVD | Limited Edition)
[JP] Angela Aki - Kagayaku Hito (CD+DVD | Limited Edition)

[JP] Yuna Ito - losin' (Limited Release)
[JP] Yuna Ito - Urban Mermaid (CD Only)
[JP] Yuna Ito - miss you
[JP] Yuna Ito - Koi wa groovyx2
[JP] Yuna Ito - trust you (Regular Edition | First Press | Gundam ID Card)
[JP] Yuna Ito - trust you (Limited Edition | Gundam ID Card)
[JP] Yuna Ito - Let it Go (CD+DVD | Limited Edition)
[JP] Yuna Ito - Mamotte Agetai

[JP] Every Little Thing - fragile / JIRENMA
[JP] Every Little Thing - Kirameki Hour
[JP] Every Little Thing - Koi wo Shiteiru / Fuyu ga Hajimaru yo feat. Makihara Noriyuki
[JP] Every Little Thing - Sakurabito (CD+DVD | Limited Edition)
[JP] Every Little Thing - Atarashii Hibi / Ougon no Tsuki (CD+DVD | Limited Edition)
[JP] Every Little Thing - DREAM GOES ON (CD+DVD | Limited Edition)
[JP] Every Little Thing - Tsumetai Ame (CD+DVD | Limited Edition)

[JP] DREAMS COME TRUE - OSAKA LOVER
[JP] DREAMS COME TRUE - Kimi ni Shika Kikoenai (CD+DVD | Limited Edition)
[JP] DREAMS COME TRUE - A-i-shi-te-ru no Sign ~Watashitachi no Mirai Yosouzu~
[JP] DREAMS COME TRUE - MERRY-LIFE-GOES-ROUND / TRUE, BABY TRUE (First Press | Alternate Cover)
[JP] DREAMS COME TRUE - Tsuretette, Tsuretette (Limited Edition | Picture Book | Stickers | Bonus Tracks | Alternate Cover)
[JP] DREAMS COME TRUE - GOOD BYE MY SCHOOL DAYS
[JP] DREAMS COME TRUE - Sono saki e feat. FUZZY CONTROL (Limited Low-priced edition)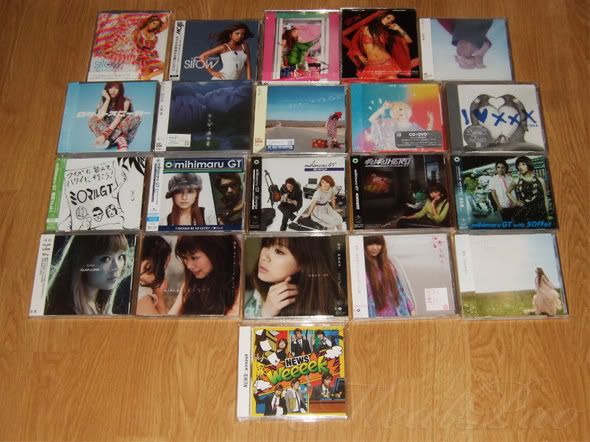 [JP] sifow - LOVE & PEACE
[JP] sifow - Carat
[JP] sifow - RULE
[JP] sifow - Natsu Hanabi

[JP] Ai Otsuka - Pocket (CD Only)
[JP] Ai Otsuka - Rocket Sneaker / One x Time (CD+DVD)
[JP] Ai Otsuka - Kurage, Nagareboshi (CD+DVD)
[JP] Ai Otsuka - Bye Bye (CD+DVD | Limited Release)
[JP] Ai Otsuka - Zokkondition / LUCKY?STAR (CD+DVD)
[JP] Ai Otsuka - I ♥ xxx (CD+DVD)

[JP] mihimaru GT - Gazen Yeah! (CD+DVD | Limited Edition)
[JP] mihimaru GT - I SHOULD BE SO LUCKY (CD+DVD | Limited Edition)
[JP] mihimaru GT - diverge (CD Only)
[JP] mihimaru GT - giri giri HERO (CD Only)
[JP] mihimaru GT with SOFFET - Naki Natsu (CD Only)

[TW] ayaka - CLAP & LOVE / Why (Regular Edition)
[JP] ayaka - Te wo Tsunagou / Ai wo Utao
[JP] ayaka - Okaeri (First Press | Photocard)
[JP] ayaka - Yume wo Mikata ni / Koi Kogarete Mita Yume (First Press | Stickers)
[JP] ayaka - Minna Sora no Shita

[JP] NEWS - weeeek (Regular Edition)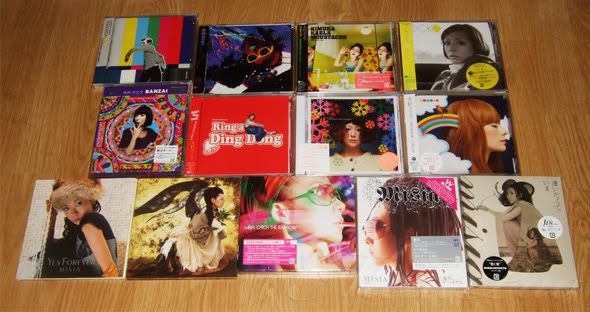 [JP] Kaela Kimura - Yellow
[JP] Kaela Kimura - Jasper (CD+DVD | Limited Edition)
[JP] Kaela Kimura - Moustache / memories (Original version)
[JP] Kaela Kimura - Doko
[JP] Kaela Kimura - BANZAI (CD+DVD | Limited Edition)
[JP] Kaela Kimura - Ring a Ding Dong
[JP] Kaela Kimura - A winter fairy is melting a snowman
[JP] Kaela Kimura - Kidoairaku Plus Ai

[JP] MISIA - Yes Forever (Limited Edition | Cardboard Sleeve | Poster)
[JP] MISIA - Yakusoku no Tsubasa (Limited Edition | Cardboard Sleeve | Poster)
[JP] MISIA - CATCH THE RAINBOW (SHM-CD+DVD | Limited Edition)
[JP] MISIA - Ginga / Itsumademo (First Press | Slipcase)
[JP] MISIA - Aitakute Ima (First Press | Slipcase)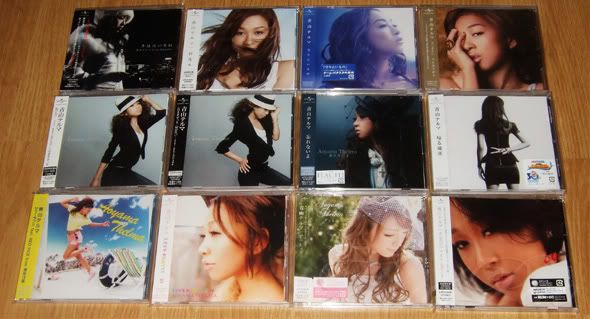 [JP] Aoyama Thelma - Soba ni iru ne feat. Soulja
[JP] Aoyama Thelma - Nando mo (CD+DVD | Limited Edition)
[JP] Aoyama Thelma - Mamoritai Mono
[JP] Aoyama Thelma - Daikkirai Demo Arigatou
[JP] Aoyama Thelma - Todoketai... feat. KEN THE 390 / Konomama Zutto (CD+DVD | Limited Edition)
[JP] Aoyama Thelma - Konomama Zutto / Todoketai... feat. KEN THE 390 (CD Only | Limited Edition)
[JP] Aoyama Thelma - Wasurenai yo (CD+DVD | Limited Edition)
[JP] Aoyama Thelma - Kaeru Basho
[JP] Aoyama Thelma - Summer Love!! feat. RED RICE from Shonannokaze
[JP] Aoyama Thelma - LET'S PARTY! / 23
[JP] Aoyama Thelma - Zutto. (CD+DVD | Limited Edition)
[JP] Aoyama Thelma - Without U feat. 4Minute (CD+DVD | Limited Edition)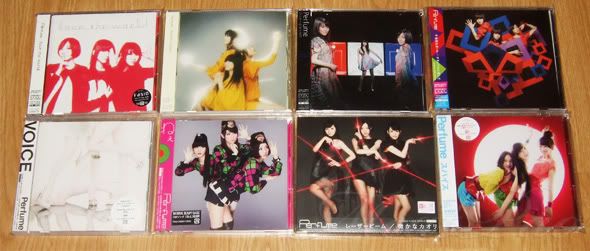 [JP] Perfume - love the world (CD+DVD | Limited Edition)
[JP] Perfume - Dream Fighter (CD Only)
[JP] Perfume - One Room Disco (CD+DVD | Limited Edition)
[JP] Perfume - Fushizen na Girl / Natural ni Koishite (CD+DVD | Limited Edition)
[JP] Perfume - VOICE (CD+DVD | Limited Edition)
[JP] Perfume - Nee (CD+DVD | Limited Edition)
[JP] Perfume - Laser Beam / Kasuka na Kaori (CD+DVD | Limited Edition)
[JP] Perfume - Spice (CD+DVD | Limited Edition)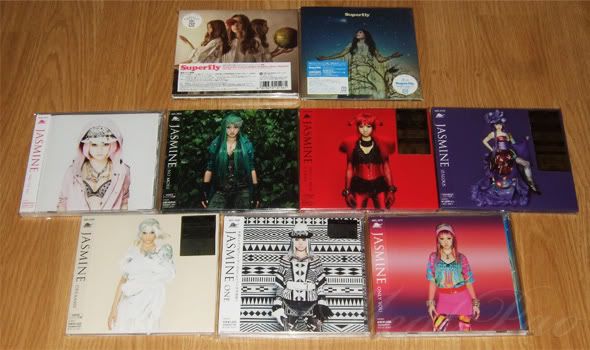 [JP] Superfly - Wildflower & Cover Songs: Complete Best 'TRACK 3' (2CD + 8cm CD | Limited Edition | Digipak)
[JP] Superfly - Aa (First Press | Digipak)

[JP] JASMINE - sad to say
[JP] JASMINE - NO MORE (First Press | Digipak)
[JP] JASMINE - THIS IS NOT A GAME (First Press | Digipak)
[JP] JASMINE - JEALOUS (First Press | Digipak)
[JP] JASMINE - DREAMIN' (First Press | Digipak)
[JP] JASMINE - ONE
[JP] JASMINE - ONLY YOU
Albums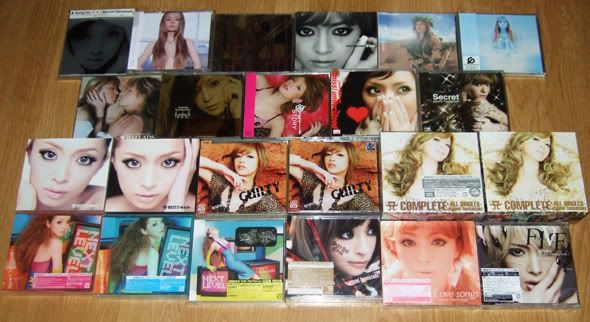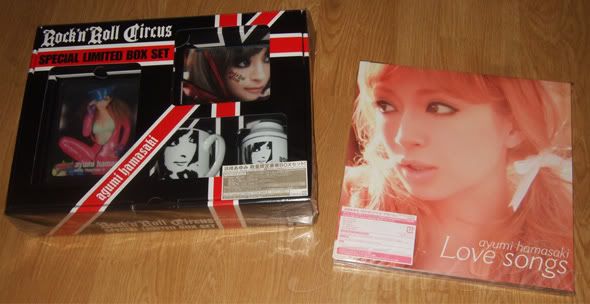 [JP] ayumi hamasaki - A Song For XX
[JP] ayumi hamasaki - LOVEppears (2CD)
[JP] ayumi hamasaki - Duty
[JP] ayumi hamasaki - A BEST (First Press | Slipcase | Alternate Cover)
[JP] ayumi hamasaki - I am... (First Press)
[JP] ayumi hamasaki - RAINBOW (First Press)
[JP] ayumi hamasaki - A BALLADS (First Press | Slipcase)
[JP] ayumi hamasaki - Memorial address (CD+DVD)
[JP] ayumi hamasaki - MY STORY (CD+DVD | First Press | Alternate Cover)
[JP] ayumi hamasaki - (miss)understood (CD+DVD | First Press | Photobook)
[JP] ayumi hamasaki - Secret (CD+DVD)
[JP] ayumi hamasaki - A BEST 2 -WHITE- (CD+DVD+DVD | First Press | Slipcase | Colored Case)
[JP] ayumi hamasaki - A BEST 2 -BLACK- (CD+DVD+DVD | First Press | Slipcase | Colored Case)
[JP] ayumi hamasaki - GUILTY (CD+DVD | First Press | Photobook)
[SG] ayumi hamasaki - GUILTY (CD+DVD)
[JP] ayumi hamasaki - A COMPLETE ~ALL SINGLES~ (3CD+DVD | First Press | Box Set | Photobook)
[SG] ayumi hamasaki - A COMPLETE ~ALL SINGLES~ (3CD+DVD | First Press | Box Set | Photobook)
[JP] ayumi hamasaki - NEXT LEVEL (2CD+DVD | Limited Edition | Pink jewel case)
[JP] ayumi hamasaki - NEXT LEVEL (CD+DVD | First Press | Blue jewel case)
[JP] ayumi hamasaki - NEXT LEVEL (USB Flash-drive | Limited Edition | Encore Press)
[JP] ayumi hamasaki - Rock'n'Roll Circus (CD+DVD | First Press | Photobook)
[JP] ayumi hamasaki - Rock'n'Roll Circus (CD+DVD | First Press | Photobook | Special Limited Box Set)
[JP] ayumi hamasaki - Love songs (CD+DVD | First Press | Slipcase | Bonus Track)
[JP] ayumi hamasaki - Love songs (DVD+USB+microSD | Limited Edition)
[JP] ayumi hamasaki - FIVE (CD+DVD)
[JP] Utada Hikaru - First Love
[JP] Utada Hikaru - Distance (First Press | Picture-labelled disc)
[JP] Utada Hikaru - DEEP RIVER (First Press | Picture-labelled disc)
[JP] Utada Hikaru - Utada Hikaru SINGLE COLLECTION VOL. 1
[JP] Utada - EXODUS (Japan Version | Slipcase | Lyric Booklet)
[JP] Utada Hikaru - ULTRA BLUE
[JP] Utada Hikaru - HEART STATION
[JP] Utada - This Is The One (Japan Version | Bonus Tracks)
[JP] Utada Hikaru - Utada Hikaru SINGLE COLLECTION VOL. 2 (First Press | Slipcase | Digipak | Kuma Charm | Bonus DVD)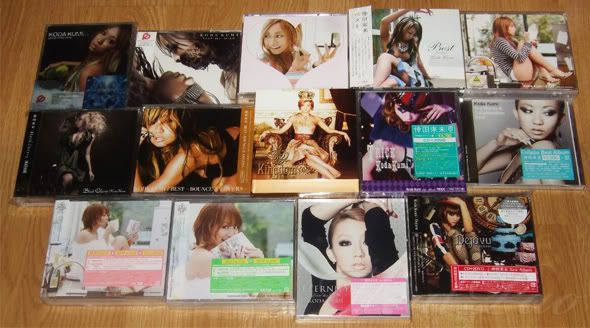 [JP] Koda Kumi - grow into one (Regular Edition)
[JP] Koda Kumi - feel my mind (Regular Edition)
[JP] Koda Kumi - secret (CD+DVD | Special Edition)
[JP] Koda Kumi - BEST ~first things~ (2CD+DVD | First Press | Slipcase | Photobook | Bonus Track)
[TW] Koda Kumi - BEST ~second session~ (CD+DVD)
[JP] Koda Kumi - Black Cherry (CD+2DVD | Limited Edition | Cherry Girl Pamphlet | Bonus Tracks)
[JP] Koda Kumi - BEST ~BOUNCE & LOVERS~ (CD+DVD | Limited Release)
[JP] Koda Kumi - Kingdom (CD+2DVD | Limited Edition | Stickers | Bonus Track)
[JP] Koda Kumi - TRICK (CD+2DVD | Limited Edition | Bonus Track)
[JP] Koda Kumi - Out Works & Collaboration Best
[JP] Koda Kumi - BEST ~third universe~ & 8th AL "UNIVERSE" (2CD+DVD | First Press | Bonus Track)
[JP] Koda Kumi - BEST ~third universe~ & 8th AL "UNIVERSE" (2CD | First Press | Bonus Track)
[JP] Koda Kumi - ETERNITY ~Love & Songs~ (First Press | Slipcase)
[JP] Koda Kumi - Dejavu (CD+2DVD | Limited Edition | CD-Sized Calendar)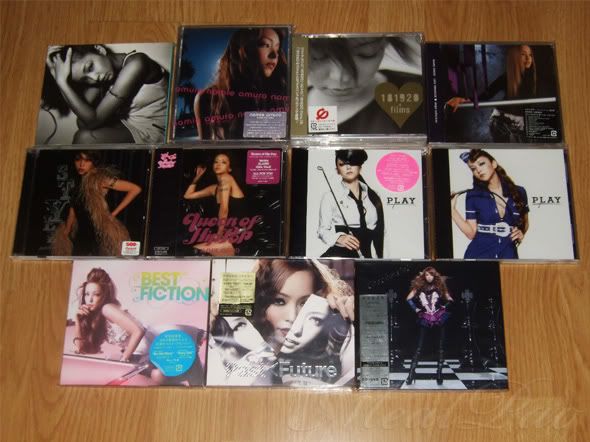 [JP] Namie Amuro - SWEET 19 BLUES (First Press | Slipcase)
[JP] Namie Amuro - break the rules (First Press | Slipcase | Photo Booklet)
[JP] Namie Amuro - 181920 & films (CD+DVD)
[JP] Namie Amuro - LOVE ENHANCED singles collection
[TH] Namie Amuro - STYLE (First Press | Bonus Tracks)
[JP] Namie Amuro - Queen of Hip-Pop (Regular Edition)
[JP] Namie Amuro - PLAY (CD+DVD)
[JP] Namie Amuro - PLAY (CD Only | First Press | Stickers)
[JP] Namie Amuro - BEST FICTION (CD+DVD | First Press | Digipak)
[JP] Namie Amuro - PAST - FUTURE (CD+DVD | First Press | Digipak)
[JP] Namie Amuro - Checkmate! (CD+DVD | First Press | Digipak)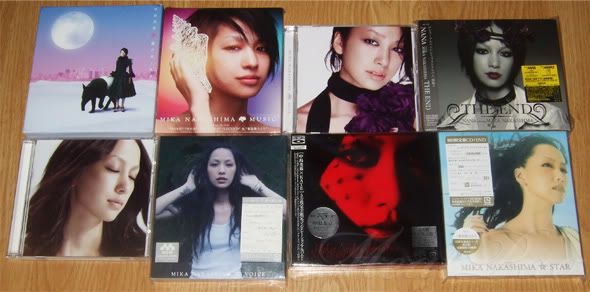 [JP] Mika Nakashima - Oborozukiyo~Inori (Limited Release)
[JP] Mika Nakashima - MUSIC (First Press | Slipcase)
[HK] Mika Nakashima - BEST
[JP] NANA starring Mika Nakashima - THE END (First Press | Slipcase | Sticker)
[HK] Mika Nakashima - YES (CD+DVD | Limited Edition | Slipcase)
[JP] Mika Nakashima - VOICE (CD+DVD | Limited Edition | Slipcase)
[JP] Mika Nakashima - NO MORE RULES. (CD+DVD | Limited Release)
[JP] Mika Nakashima - STAR (CD+DVD | Limited Edition | Slipcase)
[JP] Angela Aki - Home (CD+DVD | Limited Edition | Slipcase)
[JP] Angela Aki - TODAY (CD+DVD | Limited Edition | Slipcase)
[JP] Angela Aki - ANSWER (CD+DVD | Limited Edition | Slipcase)
[JP] Angela Aki - LIFE (CD+DVD | Limited Edition | Slipcase)
[JP] Angela Aki - WHITE (CD+DVD | Limited Edition)

[JP] Yuna Ito - HEART (CD+DVD | Limited Edition | Slipcase)
[JP] Yuna Ito - WISH (CD+DVD | Limited Edition | Slipcase | Bonus Track)
[JP] Yuna Ito - WISH (CD Only | First Press | Bonus Track)
[JP] Yuna Ito - DREAM (CD+DVD | Limited Edition | Slipcase)
[JP] Yuna Ito - LOVE ~Singles Best 2005-2010~ (CD+DVD | Limited Edition)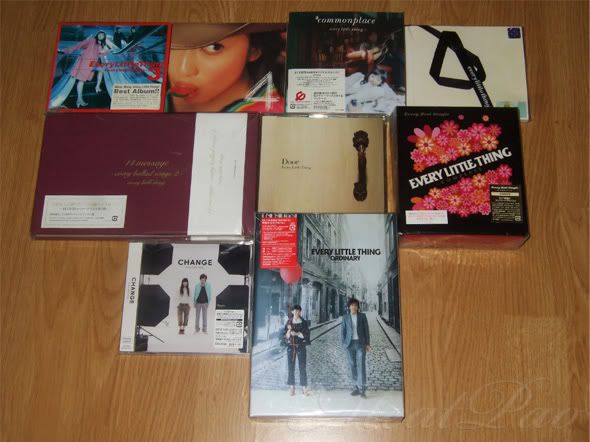 [JP] Every Little Thing - Every Best Single +3 (First Press | Slipcase)
[JP] Every Little Thing - 4 FORCE (First Press | Slipcase)
[JP] Every Little Thing - commonplace (CD+DVD | Limited Edition)
[HK] Every Little Thing - Crispy Park (CD+DVD | Limited Edition)
[JP] Every Little Thing - 14 message ~every ballad songs 2~ (Limited Edition | Special Packaging)
[JP] Every Little Thing - Door (CD+DVD | Limited Edition)
[JP] Every Little Thing - Every Best Single ~COMPLETE~ (4CD+2DVD | Limited Edition | Poster)
[JP] Every Little Thing - CHANGE (CD+DVD | Limited Edition)
[JP] Every Little Thing - ORDINARY (CD+DVD | 15th Anniversary Special Edition)
[JP] DREAMS COME TRUE - DIAMOND15
[JP] DREAMS COME TRUE - THE LOVE ROCKS (CD+DVD | Limited Edition)
[JP] DREAMS COME TRUE - AND I LOVE YOU (CD+DVD | Limited Edition | Deluxe Box)
[JP] DREAMS COME TRUE - DO YOU DREAMS COME TRUE? (CD+CD | Limited Edition | First Press | Postcard)
[JP] DREAMS COME TRUE - LOVE CENTRAL (Limited Edition | Holographic Slipcase | Digipak | Photobook)

[JP] Ai Otsuka - LOVE COOK (CD Only | Limited Edition | Picture Book)
[JP] Ai Otsuka - Ai am Best (CD+DVD | First Press | Special Packaging | Stamp)
[JP] Ai Otsuka - LOVE PiECE (CD+DVD | First Press | Special Packaging | Bonus PV)
[JP] Ai Otsuka - LOVE LETTER (CD Only | First Press | Special Packaging)

[JP] mihimaru GT - mihimagic (CD Only)
[JP] mihimaru GT - THE BEST of mihimaru GT (CD+DVD | Limited Edition)
[JP] mihimaru GT - mihimarise (CD+DVD | Limited Edition)
[JP] mihimaru GT - mihimalogy (CD+Goods | Limited Edition)
[SG] ayaka - First Message
[JP] ayaka - Sing To The Sky (CD+DVD | Limited Edition | Live Footage)
[JP] ayaka - ayaka's History 2006-2009 (Limited Edition | Photobook)

[JP] Kaela Kimura - KAELA
[JP] Kaela Kimura - Circle (CD+DVD | Limited Edition)
[JP] Kaela Kimura - Scratch (CD+DVD | Limited Edition)
[JP] Kaela Kimura - +1 (CD+DVD | Limited Edition)
[JP] Kaela Kimura - HOCUS POCUS (CD+DVD | Limited Edition)
[JP] Kaela Kimura - 5years (2CD | Limited Edition)
[JP] Kaela Kimura - 8EIGHT8 (CD+DVD | Limited Edition | Bonus Slipcase)
[JP] MISIA - LOVE IS THE MESSAGE (First Press | Special Packaging)
[JP] MISIA - MARVELOUS (First Press | Special Packaging)
[JP] MISIA - MISIA GREATEST HITS
[JP] MISIA - KISS IN THE SKY (Limited Edition | Special Packaging | Bonus Content)
[HK] MISIA - ASCENSION (First Press | Slipcase | Bonus Track)
[JP] MISIA - EIGHTH WORLD (Limited Edition | Bonus Disc)
[JP] MISIA - JUST BALLADE (Limited Edition | Special Packaging)
[JP] MISIA - SOUL QUEST (Limited Edition | Bonus Disc)

[JP] Aoyama Thelma - DIARY (CD Only)
[JP] Aoyama Thelma - LOVE! ~THELMA LOVESONG COLLECTION~ (CD+DVD | Limited Edition)
[JP] Aoyama Thelma - Emotions (CD+DVD | Limited Edition)
[JP] Aoyama Thelma - LOVE!2 -THELMA BEST COLLABORATIONS- (CD+DVD | Limited Edition)
[JP] Aoyama Thelma - WILL (Limited Edition | Bonus Tracks)
[JP] Perfume - GAME (CD Only)
[JP] Perfume - Triangle (CD+DVD | Limited Edition)
[JP] Perfume - JPN (CD+DVD | Limited Edition)

[JP] Superfly - Superfly (CD Only)
[JP] Superfly - Box Emotions (CD+DVD | Limited Edition)
[JP] Superfly - Mind Travel (CD+DVD | Limited Edition)
[JP] Crystal Kay - Color Change! (CD Only)
[JP] Crystal Kay - BEST of CRYSTAL KAY (Limited Edition | Bonus Disc)
[JP] Crystal Kay - FLASH (CD+DVD | Limited Edition)
[JP] Crystal Kay - Spin The Music (First Press | Pocket Calendar)

[JP] JASMINE - GOLD (CD+DVD | Limited Edition | Digipak)

[JP] KyaryPamyuPamyu - Moshi Moshi Harajuku (Limited Edition | Photobook)
Remix CD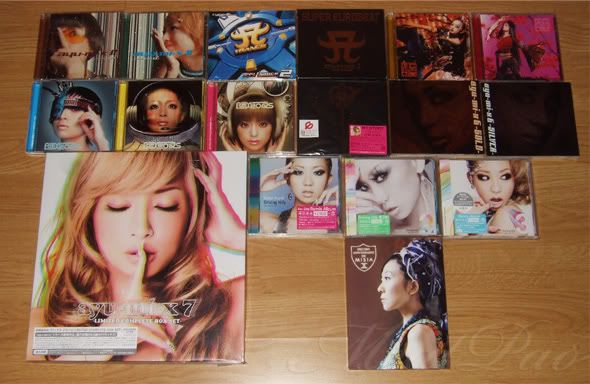 [HK] ayumi hamasaki - ayu-mi-x II -VER JPN- (First Press | Sparkly Jewel Case | Photocard)
[HK] ayumi hamasaki - ayu-mi-x II -VER US+EU- (First Press | Sparkly Jewel Case | Photocard)
[HK] ayumi hamasaki - Cyber Trance presents ayu trance 2
[HK] ayumi hamasaki - SUPER EUROBEAT presents ayu-ro-mix 2
[JP] ayumi hamasaki - ayu-mi-x 4 +selection Non-Stop Mega Mix Version
[JP] ayumi hamasaki - ayu-mi-x 4 +selection Acoustic Ochestra Version
[HK] ayumi hamasaki - ayumi hamasaki RMX WORKS from Cyber TRANCE presents ayu trance 3
[HK] ayumi hamasaki - ayumi hamasaki RMX WORKS from SUPER EUROBEAT presents ayu-ro-mix 3
[HK] ayumi hamasaki - ayumi hamasaki RMX WORKS from ayu-mi-x 5 non-stop mega mix
[JP] ayumi hamasaki - MY STORY CLASSICAL (First Press | Slipcase)
[JP] ayumi hamasaki - ayu-mi-x 6 (GOLD) (First Press | Slipcase | Postcard)
[JP] ayumi hamasaki - ayu-mi-x 6 (SILVER) (First Press | Slipcase | Postcard)
[JP] ayumi hamasaki - ayu-mi-x 7 -LIMITED COMPLETE BOX SET- (Limited Edition | Bonus Disc)
[JP] ayumi hamasaki - ayu-mi-x 7 -version HOUSE- (ayu-mi-x 7 -LIMITED COMPLETE BOX SET-)
[JP] ayumi hamasaki - ayu-mi-x 7 -version Acoustic Orchestra- (ayu-mi-x 7 -LIMITED COMPLETE BOX SET-)
[JP] ayumi hamasaki - ayu-mi-x 7 presents ayu trance 4 (ayu-mi-x 7 -LIMITED COMPLETE BOX SET-)
[JP] ayumi hamasaki - ayu-mi-x 7 presents ayu-ro mix 4 (ayu-mi-x 7 -LIMITED COMPLETE BOX SET-)

[JP] Koda Kumi - Driving Hit's
[JP] Koda Kumi - Driving Hit's 2
[JP] Koda Kumi - Driving Hit's 3 (First Press | Bonus Track)

[HK] MISIA - DECIMO X ANIVERSARIO DE MISIA -THE BEST DJ REMIXES- (CD+DVD)
DVD / VCD

[JP] ayumi hamasaki - COMPLETE CLIP BOX
[TW] ayumi hamasaki - ayumi hamasaki A Museum ~30th Single Collection Live~
[HK] ayumi hamasaki - ayumi hamasaki ARENA TOUR 2003-2004 A
[HK] ayumi hamasaki - ayumi hamasaki COUNTDOWN LIVE 2004-2005 A
[TW] ayumi hamasaki - ayumi hamasaki ARENA TOUR 2005 A ~MY STORY~
[HK] ayumi hamasaki - ayumi hamasaki COUNTDOWN LIVE 2005-2006 A
[HK] ayumi hamasaki - ayumi hamasaki ARENA TOUR 2006 A ~(miss)understood~
[HK] ayumi hamasaki - ayumi hamasaki Asia Tour 2007 A ~Tour of Secret~ "LIVE + DOCUMENTARY"
[HK] ayumi hamasaki - ayumi hamasaki COUNTDOWN LIVE 2007-2008 Anniversary
[HK] ayumi hamasaki - ayumi hamasaki ASIA TOUR 2008 ~10th Anniversary~ Live in TAIPEI
[HK] ayumi hamasaki - ayumi hamasaki PREMIUM COUNTDOWN LIVE 2008-2009 A
[JP] ayumi hamasaki - ayumi hamasaki ARENA TOUR 2009 A ~NEXT LEVEL~ (Rock'n'Roll Circus Special Limited Box Set)
[TW] ayumi hamasaki - ayumi hamasaki ARENA TOUR 2009 A ~NEXT LEVEL~
[TW] ayumi hamasaki - ayumi hamasaki COUNTDOWN LIVE 2009-2010 A ~Future Classics~
[TW] ayumi hamasaki - ayumi hamasaki Rock 'n' Roll Circus Tour FINAL ~7days Special~
[TW] ayumi hamasaki - ayumi hamasaki COUNTDOWN LIVE 2010-2011 ~do it again~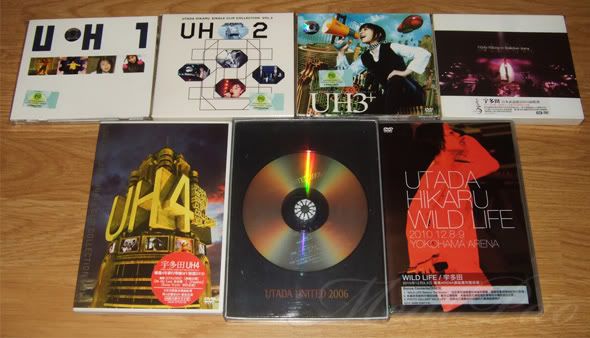 [CN] Utada Hikaru - Utada Hikaru Single Clip Collection Volume 1
[JP] Utada Hikaru - Utada Hikaru Single Clip Collection Volume 2
[CN] Utada Hikaru - Utada Hikaru Single Clip Collection Volume 3
[TW] Utada Hikaru - Utada Hikaru Single Clip Collection Volume 4 (Regular Edition)
[CN] Utada Hikaru - Utada Hikaru Live in Budokan 2004
[TW] Utada Hikaru - UTADA UNITED 2006
[TW] Utada Hikaru - WILD LIFE
[HK] Koda Kumi - secret FIRST CLASS LIMITED LIVE
[HK] Koda Kumi - LIVE TOUR 2005 ~first things~ DELUXE EDITION
[JP] Koda Kumi - KODA KUMI Live Tour 2006-2007 ~second session~
[JP] Koda Kumi - KODA KUMI LIVE TOUR 2007 ~Black Cherry~ SPECIAL FINAL in TOKYO DOME (Limited Edition)
[HK] Koda Kumi - KODA KUMI LIVE TOUR 2008 ~Kingdom~ (Limited Edition | Slipcase)
[JP] Koda Kumi - KODA KUMI LIVE TOUR 2009 ~TRICK~ (Limited Edition | Holographic cover)
[TW] Koda Kumi - KODA KUMI LIVE TOUR 2010 ~UNIVERSE~
[TW] Koda Kumi - KODA KUMI 10th Anniversary ~FANTASIA~ in TOKYO DOME


[HK] Namie Amuro - filmography
[TW] Namie Amuro - Space of Hip-Pop
[JP] Namie Amuro - BEST TOUR LIVE STYLE 2006
[TW] Namie Amuro - Fimography 2001-2005
[HK] Namie Amuro - PLAY TOUR 2007
[JP] Namie Amuro - namie amuro BEST FICTION TOUR 2008-2009 (First Press | Digipak)
[TW] Namie Amuro - namie amuro PAST - FUTURE tour 2010 (First Press | Slipcase | Digipak)

[HK] Mika Nakashima - LET'S MUSIC TOUR 2005
[HK] Mika Nakashima - BEST

[HK] Every Little Thing - Concert Tour 2006-2007 Crispy Park
[HK] Every Little Thing - Every Little Thing 10th Anniversary Special Live at Nippon Budokan
[HK] Every Little Thing - Every Little Thing Concert Tour 2008 "Door"

[JP] DREAMS COME TRUE - DREAMS COME TRUE WONDERLAND 2003 DOCUMENTARY
[JP] DREAMS COME TRUE - Concert Tour 2006 THE LOVE ROCKS (Limited Edition | Photobook)
[JP] DREAMS COME TRUE - WONDERLAND 2007 (Regular Edition)
[JP] DREAMS COME TRUE - 20th Anniversary DREAMS COME TRUE CONCERT TOUR 2009 "Dori shitemasu?" (Limited Edition)

[HK] Ai Otsuka - LOVE IS BORN 3rd Anniversary 2006 (First Press | Photobook)
[HK] Ai Otsuka - Ai am BEST Tour 2007 (Limited Edition | Photobook)
[TW] Ai Otsuka - LOVE PiECE Tour 2008 (Limited Edition | Photobook)

[HK] VARIOUS ARTISTS - a-nation 2005
[HK] VARIOUS ARTISTS - a-nation 2006
[HK] VARIOUS ARTISTS - a-nation 2007
English Music Collection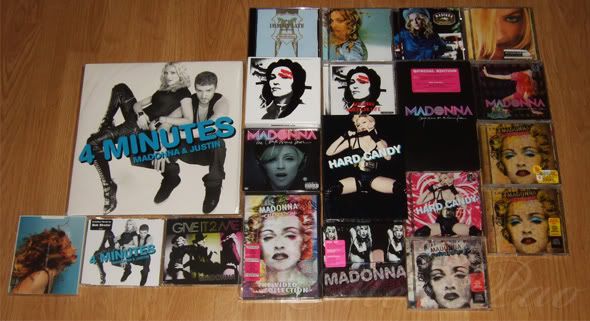 # Madonna - The Immaculate Collection
# Madonna - Ray of Light
# Madonna - Music
# Madonna - GHV2
# Madonna - American Life (Special Edition)
# Madonna - American Life
# Madonna - Confessions on a Dance Floor (Special Edition)
# Madonna - Confessions on a Dance Floor
# Madonna - Confessions Tour (CD+DVD)
# Madonna - Hard Candy (Special Edition)
# Madonna - Hard Candy
# Madonna - Celebration (2CD | Singapore Version)
# Madonna - Celebration (2CD | EU Version)
# Madonna - Celebration (2CD | EU Version)
# Madonna - Celebration (1CD | Argentina Version)
# Madonna - Celebration (2DVD)
# Madonna - Sticky & Sweet Tour (CD+DVD)

# Madonna - Ray of Light (Single)
# Madonna - 4 Minutes
# Madonna - Give It 2 Me
# Madonna - 4 Minutes (Vinyl)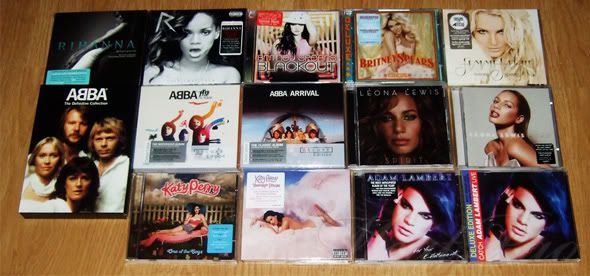 # Rihanna - Good Girl Gone Bad (Collectors' Limited Edition | Remixes)
# Rihanna - Talk That Talk (Deluxe Edition)

# Britney Spears - Blackout
# Britney Spears - Circus (CD+DVD | Deluxe Edition)
# Britney Spears - Femme Fatale (Deluxe Edition | Bonus Tracks)

# ABBA - The Definitive Collection (2CD+DVD)
# ABBA - The Album (CD+DVD | Deluxe Edition)
# ABBA - Arrival (CD+DVD | Deluxe Edition)

# Leona Lewis - Spirit
# Leona Lewis - Echo

# Katy Perry - One of the Boys
# Katy Perry - Teenage Dream (2CD | Deluxe Edition)

# Adam Lambert - For Your Entertainment
# Adam Lambert - For Your Entertainment (CD+DVD | Deluxe Edition)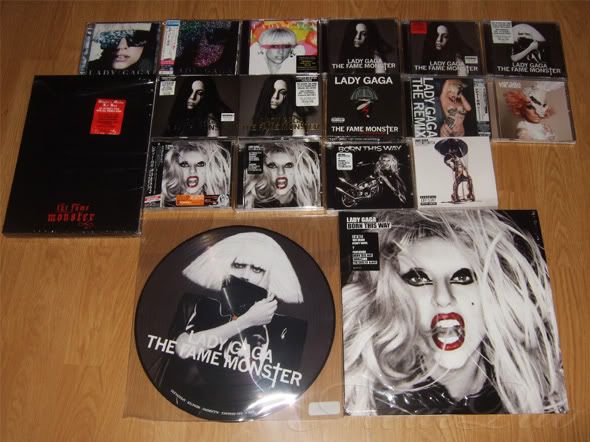 # Lady Gaga - The Fame (2008 Version | EU Version | Bonus Track)
# Lady Gaga - The Fame (CD+DVD | Japan Version)
# Lady Gaga - The Cherrytree Sessions
# Lady Gaga - The Fame Monster (1CD | Censored)
# Lady Gaga - The Fame Monster (1CD | Uncensored)
# Lady Gaga - The Fame Monster (2CD | Deluxe Edition)
# Lady Gaga - The Fame Monster (2CD | Australia Version | Limited Edition | Silver)
# Lady Gaga - The Fame Monster (2CD | Limited Edition | Gold)
# Lady Gaga - The Fame Monster (Super Deluxe)
# Lady Gaga - The Fame Monster (USB Edition)
# Lady Gaga - The Fame Monster (Vinyl | Picture Disc)
# Lady Gaga - The Remix (Japan Version)
# Lady Gaga - The Remix (International Version)
# Lady Gaga - Born This Way (2CD | Special Edition | Japan Version | Bonus Tracks)
# Lady Gaga - Born This Way (2CD | Special Edition)
# Lady Gaga - Born This Way
# Lady Gaga - Born This Way (Vinyl)
# Lady Gaga - Born This Way (The Collection)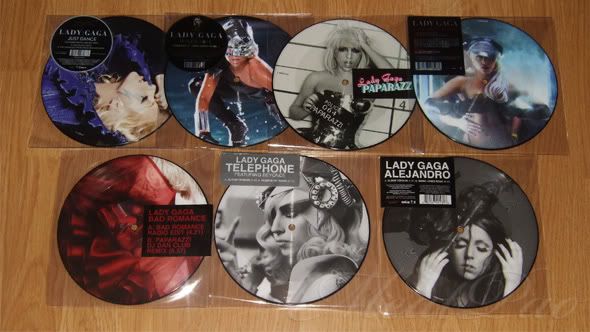 # Lady Gaga - Just Dance (Vinyl | Limited Edition | Picture Disc)
# Lady Gaga - Poker Face (Vinyl | Limited Edition | Picture Disc)
# Lady Gaga - Paparazzi (Vinyl | Limited Edition | Picture Disc)
# Lady Gaga - Love Game (Vinyl | Limited Edition | Picture Disc)
# Lady Gaga - Bad Romance (Vinyl | Limited Edition | Picture Disc)
# Lady Gaga - Telephone (Vinyl | Limited Edition | Picture Disc)
# Lady Gaga - Alejandro (Vinyl | Limited Edition | Picture Disc)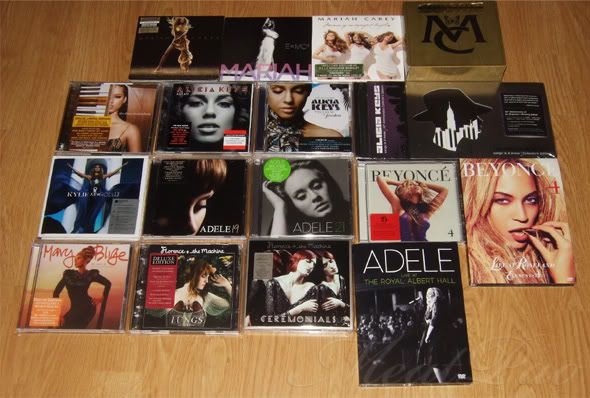 # Mariah Carey - The Emancipation of MiMi (Deluxe Edition)
# Mariah Carey - E=MC² (Deluxe Edition)
# Mariah Carey - Memoirs of an Imperfect Angel (Deluxe Edition)
# Mariah Carey - 3CD Box Set (Charmbracelet, The Emancipation of MiMi, E=MC²)

# Alicia Keys - The Diary of Alicia Keys (CD+DVD | Limited Edition)
# Alicia Keys - As I Am (CD+DVD | Limited Edition)
# Alicia Keys - The Element of Freedom (CD+DVD | Deluxe Edition)
# Alicia Keys - Songs in A Minor (2CD | 10th Anniversary Re-release)

# Kylie Minogue - Aphrodite (CD+DVD | Experience Edition)

# Beyoncé - 4 (2CD | Deluxe Edition)
# Beyoncé - Live at Roseland: Elements of 4

# Adele - 19
# Adele - 21
# Adele - Live at the Royal Albert Hall

# Mary J. Blige - My Life II... The Journey Continues (Act 1) (Deluxe Edition)

# Florence + the Machine - Lungs (2CD | Deluxe Edition)
# Florence + the Machine - Ceremonials (2CD | Deluxe Edition)
Not Pictured:
# Rihanna - Take a Bow
# Mariah Carey - Touch My Body
And that's it for 2011!!!
Also, the little announcement that I said I would make yesterday is that from 2012 onwards, I will only make collection updates once a year in December. The reason is because I am simply lazy. Joy to the world!!!