As a respite from having spent $130 on clothes yesterday and burning the side of mouth from a scalding hot piece of deep fried wanton, I shall bask in the pleasantness of having recently turned 17! Ain't sexteen no more!
Unfortunately, I had to work from 2pm - 10pm on the actual day itself and even Kimora said "You're still young, you need to have a life!"
I figured that taking an off day would be pointless since I'm not one to throw extravagant parties for my birthdays and even last year, my birthday was spent in school! Got CCA some more!
I guess I also didn't mind working because I celebrated my birthday throughout the week anyway. By throughout the week I really mean only 3 days... :(
2 days before on the 17th, Darren treated Edrie, Sophia and I to Pizza Hut!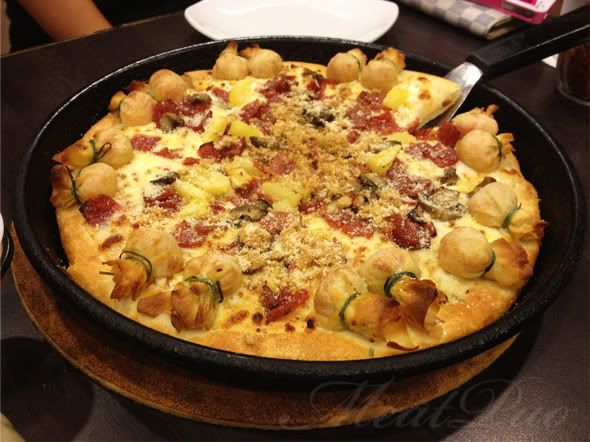 This is the CNY special which is fucking nice, and it doesn't even have pork! Impressive.
And of course after the meal our favourite resident drug addict, Sophia, decided to do something creative: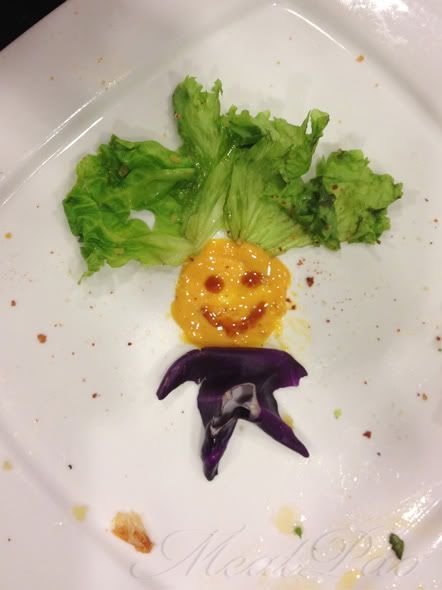 On the 18th, 2 of my colleagues knew my birthday was the next day (because I shamelessly said it multiple times in everybody's faces which I think irritated Agnes Monica LOL) but that happened to be their off day!
So they were sweet enough to get me this after they knocked off!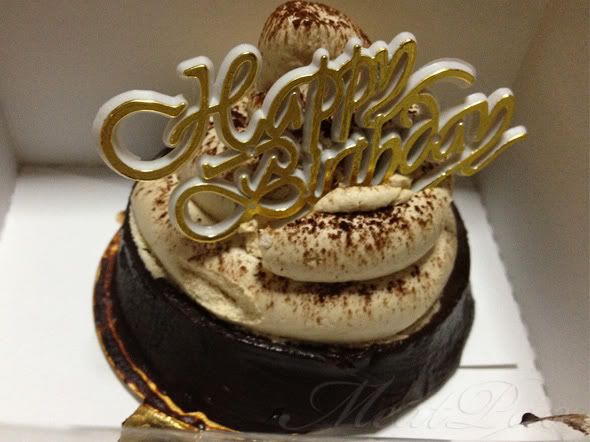 In the shape of a turd. But I have to say it is the finest tasting piece of shit I've ever tasted, and I may or may not be trying to insinuate that I've tasted shit before.
On the very same day, at 11:59PM, I heard the doorbell ring which of course raised not just my eyebrows but my pubes as well because I wasn't wearing any underwear
(My birthday what cannot meh)
but I was so lazy I didn't bother to put any on before I opened the door.
I looked into the peephole and saw what just might be the most embarrassing sight of 2012. It was Sophia and Edrie desperately trying to light up a candle to no avail HAHA.
So I immediately opened the door in one swift movement and shouted "FAIL!!!!" POTONG STIM OR WHAT! They then started to curse and swear for not covering the peephole.
I forgive you, Edrie and Sophia, because I don't need a candle to be lighted on the absolutely expensive and high class Oreo Cheesecake from McCafé.
They did make this for me though which is so nice of them, and they are rarely nice to anybody.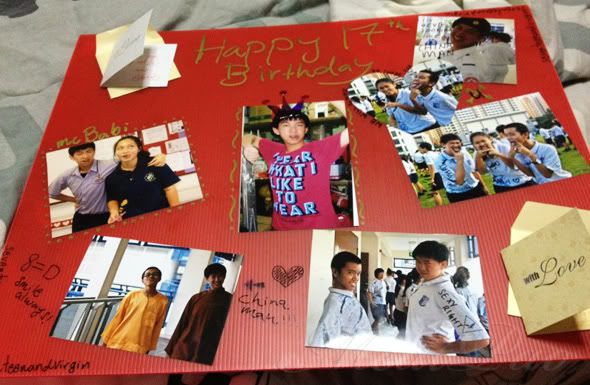 Totally loving the obscenely written CHINA MAN everywhere. I was mostly amazed by how fat I was last time, and the worst part is how back then, I would keep defending myself saying that I was not! ~Thank god for bulimia~
They also got me a toy which helps lazy people like me grab onto things from a distance and a jacket from Uniqlo which looks amazing! Although later on they admitted that they only bought it when it was on sale. Potong stim.
The next day on ~my birthday itself~ the morning shift people bought a cake for me! How nice of them! Although I know I buay paiseh kept going "IT'S MY BIRTHDAY TOMORROW!!!" I didn't expect anybody to do anything for me!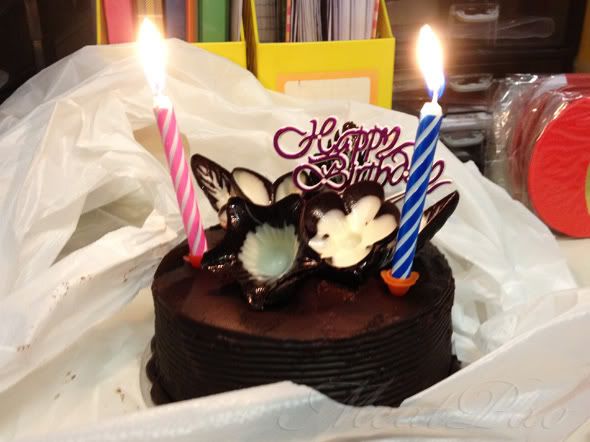 So nice riiiight? Then later on in the night my supervisor shouted to the entire queue of customers that it's my birthday today, good lord. He also said he'd get a girl to kiss me but didn't in the end LOL.
Therefore for my birthday this year I've eaten a total of 3 different cakes, which is just about the same number of yusheng I've had this CNY.
Then on the 21st I went to watch
Wicked
with Jiarong!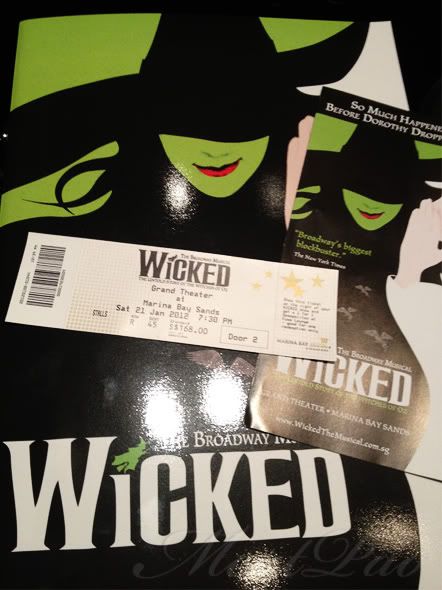 Actually it isn't really to celebrate my birthday but I just didn't want to make myself seem so pathetic. Jiarong did pass me my presents on that day though,which is an utter trollfest.
First he got me Siti Nurhaliza's All Your Love. Then remember how I was so sad over SP's goodie bag running out? Well, from the bag he gave me the thing to coil your earpiece around, a ruler and a pen. Irritate.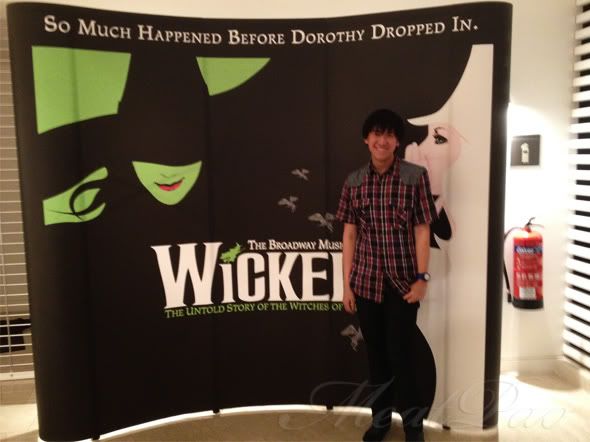 The musical was pretty fucking amazing though. I'm so impressed!!! I think everyone should go watch it and PLEASE GET CAT A TICKETS. The view is just about right and totally worth the price.
You know what's not worth the price though? The merchandise. I strongly discourage buying the soundtrack there because it's 30 fucking dollars! Other CD stores only sell it for like, $20? Ish?
I ended up buying only a T-Shirt because even that costs $40. But I like it so it's okay. I contemplated the $30 water bottle but decided not to since it's made of metal and I keep having the impression that it would give a metallic taste to my water. Don't judge me.
That is how I spent my eventful birthday week! Of course, I can't wait to be 18 next year because that would bring me one year closer to gaining entry into Lucky Plaza's House of Condom.