I took an off day from my work on 7th January to attend JWSS' CCA Open House as well as the Poly Open Houses, and not just that, but I also wanted to see how much of a disaster JWSS is right now.
May I present to you, ladies and gentlemen: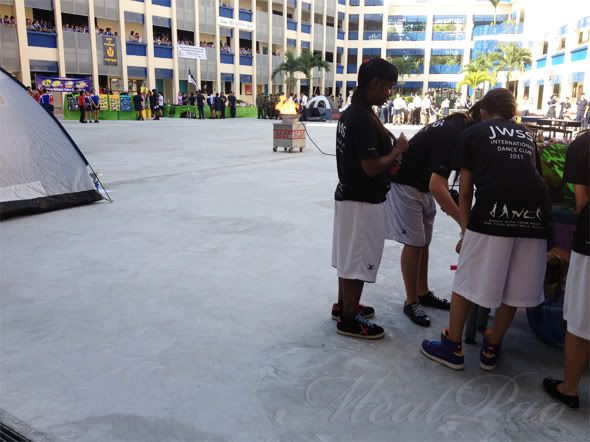 A cum-stained parade square, which I masturbated all over and you can't see where I came at.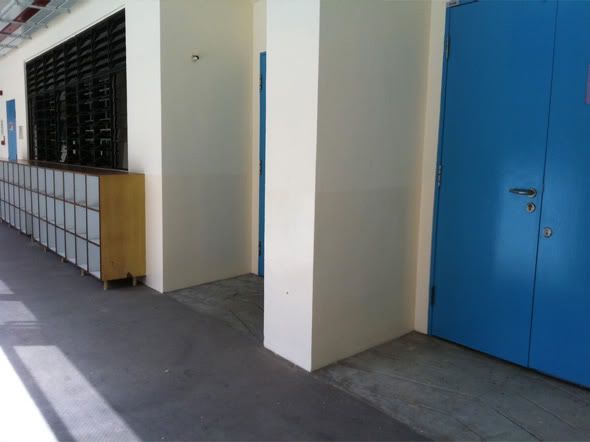 Hideously painted blue doors everywhere! (from Eva's twitter)
First of all, I am fine if they want to make the parade square like that, because I understand that the ground is always uneven, causing people to trip over.
BUT YOU DO NOT, YOU DO NOT, LISTEN,
YOU DO NOT!!!!
TAKE AWAY OUR ICONIC EAGLE!!!!
WHERE'S OUR EAGLE GONE? ARE YOU GONNA SHAVE AWAY THE EAGLE'S NEST TOO? NO, I CAN'T, I CUNT! Where will the eagle be when we Google Maps the school now? I WANT AN ANSWER!!!
Even the teachers don't know if the eagle is gonna be back or not!
I don't think Mr Gan made this change. I think it's someone else, but I will not point names and name blames. And can't they at the very least make the floor colours even? Goodness gracious.
Oh, and I dropped my phone for the first time that day right on the parade square. Even the eagle hidden underneath wants my phone to protest, I'm telling you!
Secondly, WHO THOUGHT IT WAS A GOOD IDEA TO MAKE THE DOORS SUCH A HIDEOUS BLUE?
WHO THOUGHT THAT?
I asked BOTH students AND teachers and ALL of them thinks it's ugly. GET YOUR SHIT TOGETHER! I'm so pissed! I thought the brown doors were nice!
Now everything just looks so dull and stale looking, you know what I mean? Kimora calls it fabulosity, I call it hideosity!
Other than the school's hideous appearance now, I thought the open house was pretty okay. It's nice to see all the familiar faces again, although a lot of teachers are gone now, especially my fav Ms A, Mdm Rubs and Mrs Tan aka ayumi hamasaki!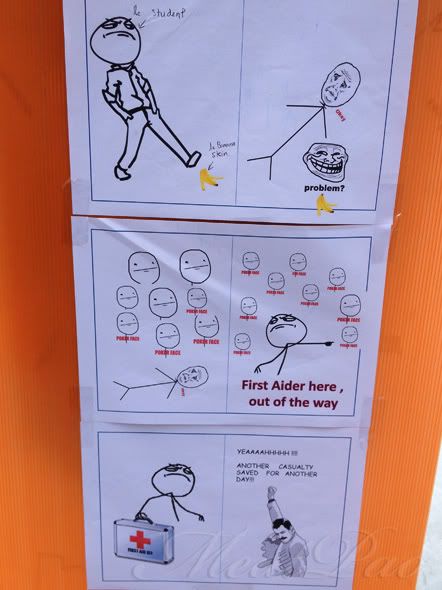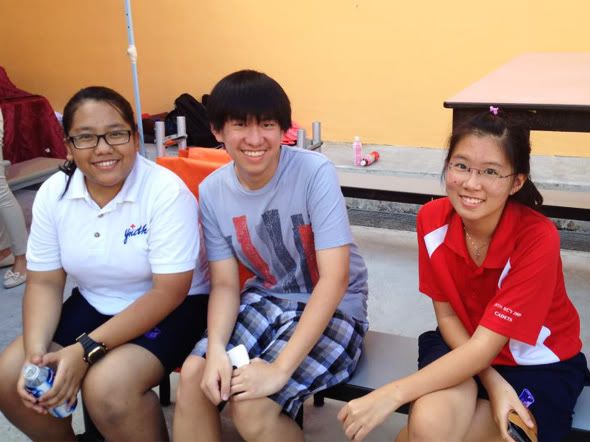 I also tried to take my EAGLES award that day but the clerk wasn't around. Well, someone was there, but I figured that she's either too lazy to entertain Edrie and I or she doesn't even understand what we're talking.
~~~
As for the Poly Open Houses, I only went to NP and SP, just like many others from JWSS because we're so lazy like that.
I only talked to some people at the NP Convention Centre and that's pretty much it. I did get the goodie bag though!!!
Unfortunately, SP ran out of theirs, so irritating! I also went for the Media & Communication tour, which was okay I guess. I'm still mostly bummed by the running out of SP goodie bags. THIS IS NOT THE END!!!