So after missing last month's I finally have something for this month!
(2012.03.14) Koda Kumi - Driving Hit's 4 (First Press | Bonus Track)
Once again our favourite pregnant woman releases another remix album!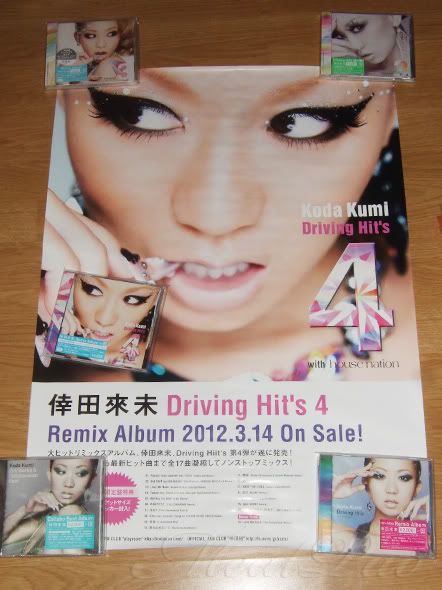 The poster that it came with which is some boring promotional poster.
I'm still quite certain they'll be releasing a b-side collection album while they're waiting for her baby to pop out.
Either that or another cover album since it wouldn't be a must for her to film videos for it
(and those in the first were done way after it was released)
but I just hope for dear lord she doesn't pull a hitomi and shoot the cover of her naked with her big belly jutting out
(2012.03.21) Namie Amuro - Go Round / YEAH-OH (CD+DVD)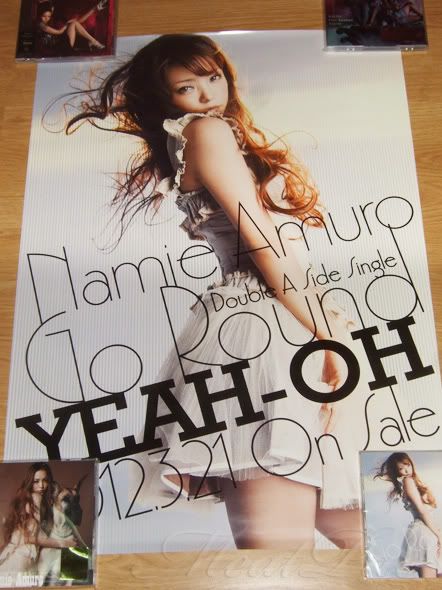 Namie be back with a new single y'all! I personally think this single is amazing and is that a 35-year-old woman on the cover? Why yes, it is, bitch.
But I hope her next release will be the damn album because she's already released one too many for the upcoming album and the sales of this single is enough proof.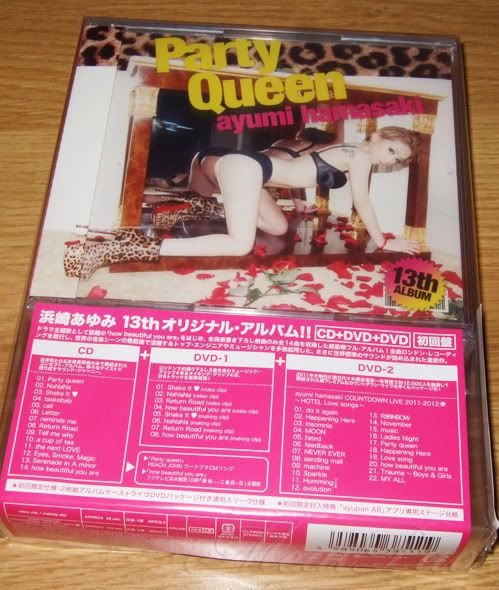 (2012.03.21) ayumi hamasaki - Party Queen (CD+DVD+DVD | First Press)
Ayu's 13th album, Pedigree! Which as you can see has a really shit-tastic cover.
Apparently she claims to have some sort of concept behind the entire album's photoshoot that depicts the public's perception of her image and is further exemplified by the font and all emulating a tabloid magazine.
When in actual fact... she is a sad party queen!!! ;_; she looks happy but she is, in reality, ~hiding behind a mask~
I think this photoshoot would have brought the message clearer if, let's say, there is a lot of shit in the background like maybe dirty / broken dishes in this particular cover OR SOMETHING LIKE THAT LA
The other 2 covers kinda showed that she really loses it though because in one of them, she is hugging a damn shoe, and in the other she is looking like a total nuthead and drinking alcohol alone in the morning.
At first the fans thought that maybe the real message can be seen more clearly in the booklet pictures but noooo it's just her lying around in the hotel room she was in and all that. Meh.
But I think you'll only get it when listening to the entire album because you can see the album gradually becoming darker and sadder lyrically especially how the only fun upbeat songs are the first 3 songs. Then she gets all emo and shit. I personally liked that she experimented with jazz / broadway elements in 2 of the songs.
As a whole I think the album actually turned out to be really good except for the craptastic cover that I may never get myself to like.
I also can't help but start to feel that she is starting to lose it in the head especially seeing these 2 hot messes she did:
SHAKE IT, SHAKE IT LA LA
BUT AYU I STILL LOVE YOU EVEN THOUGH YOU'RE A SAD PARTY QUEEN I don't think Mannie meant it when he insinuated that you were a psycho! Ahem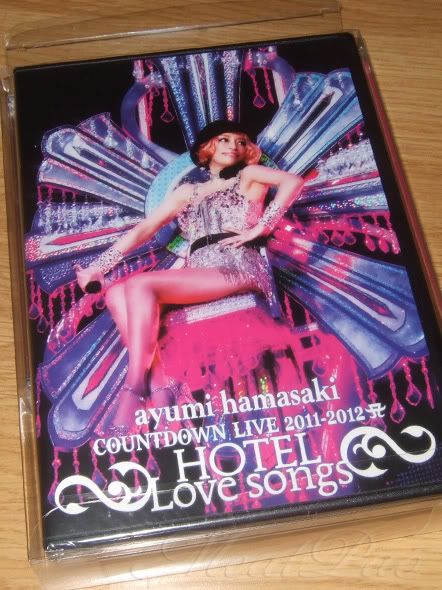 The back of the packaging which shows the cover for her latest countdown live exclusive to the first press editions. The concert didn't turn out to be as big of a shitfest as people have been saying.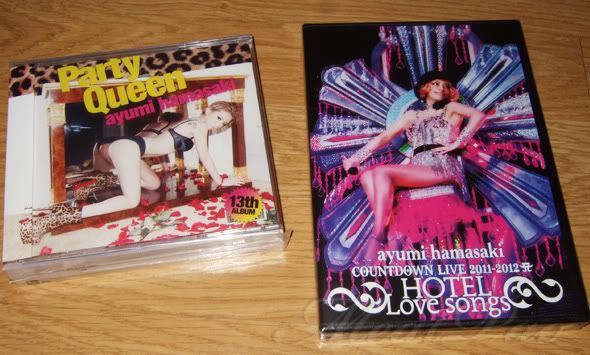 Tada
In a shocking twist of events I also didn't buy the limited edition of this album! First of all it costs a whopping $280, and the reason is so because it contains the edition that I own, along with a copy of last year's POWER of MUSIC Tour DVD, as well as 2 half-pint glasses and 2 cork coasters all housed in a box.
I mean seriously. 2 glasses and 2 coasters with Party Queen written on it as the bonus items.
It's not as though avex is trying to cheat our money because if you calculate the price of the individual items it seems reasonable but I just didn't see the point in getting it especially how I kind of regret getting the Rock'n'Roll Circus box set 2 years back which came with a fucking mug and TEA.
I'll also be getting the Taiwan press of the PoM DVD anyway since I want the subtitles LOL
Ok moving on!
(2012.02.08) KODA KUMI LIVE TOUR 2011 ~Dejavu~
The Taiwan press of Kuu's latest tour DVD. Have yet to watch it but I heard it was pretty good though I'm not too fond of the foul rainbow gradient over the text.
And that's it for this month's CDoM! Wasn't that a really long post