I haaaaveee neverrrr ever really danced in my life before but when I do, I look like Britney Spears at her 2007 VMA performance
(we all know how that went)
, while thinking that I'm dancing like Koda Kumi.
And if you asked everybody they'd pretty much tell you that never can they imagine me actually dancing. May I present to you... me dancing.
I'm not cocky; I just loooOOoooOoooove myself
I'm the one at the farthest row slightly off center to the right! Sexy or what?
So here's the back story to how alllll of this came about. When I attended my school's bonding camp earlier this month we had this mass dance thing which was actually the choreography above!
We were separated into 3 different groups (or "tribes" as they call it) so at one point we had this "dance battle" between the 3 tribes. Apparently for mine they decided to choose 3 people from each of the 5 sub-tribes
(Yes there's a group within a group)
to represent the entire tribe as a whole!
My sub-tribe required one more person up and a senior specifically asked for a male volunteer which none of the 5 of us did, although secretly I was shouting "I VOLUNTEER AS TRIBUTE!!!" in my head. And the next thing you know I GOT PICKED!!!
I ended up dancing like a bloody retard on stage
(Nicolene and I kept looking at each other because we forgot the moves)
and I was so damn sure that they weren't gonna pick me for this competition but they still did anyway!
So the competition which is called Dance 4 Fun is held annually as part of the freshmen orientation program where each school in NP sends out a group of representatives to have a friendly dance competition! My school which is the School of Film and Media Studies (FMS) actually won once in 2010 but got dethroned to second place last year, so this year we're trying to claim it back.
The choreography was done by 2 Year 3 students and one of them is Duane Ho, who you might remember was from Singapore Idol! And when I first saw him dance during the demonstration, I have to say that HE CAN DANCE. His body is flexible as hell!
I really doubted that they chose me solely because they thought I could dance, but I certainly enjoyed the huge ego boost I got when my friends told me that I actually danced sexily. SEXILY YOU KNOW. First time in my life people actually said I danced sexily!
After our camp our first training session was already on the coming Saturday, followed by Monday - Wednesday of intense training with the competition on Thursday, which was last week.
During the training we really had to get our sex on for this dance because while the highlight is usually on the costume, we were banking it all on our face and on one of the training sessions we literally spent a good half an hour listening to sexy sexy music dancing sexily trying to make the best sex faces that we can make. And that's as if my mind isn't already corrupted enough.
And tada! The video above is the fruition of our efforts! I have to say I am damn proud of myself for actually dancing properly for the first time ever and I felt so touched from the support of all my friends as well ;_;
Slutty low-quality front camera pictures taken on the day of the competition: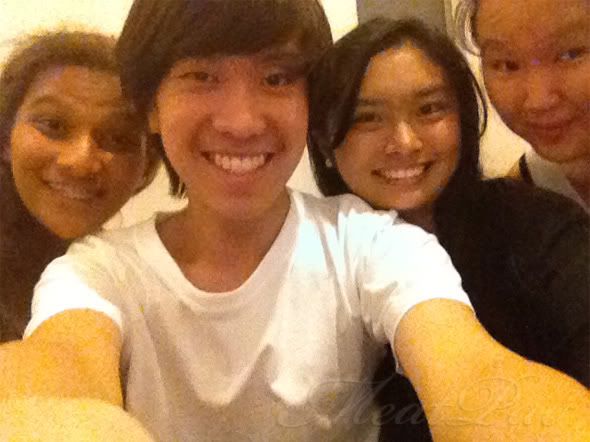 Sonia, me, Corinne and Gabrielle before putting our make up on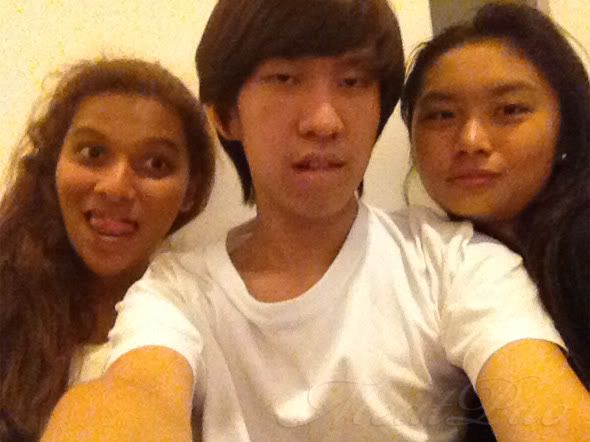 SEX FACE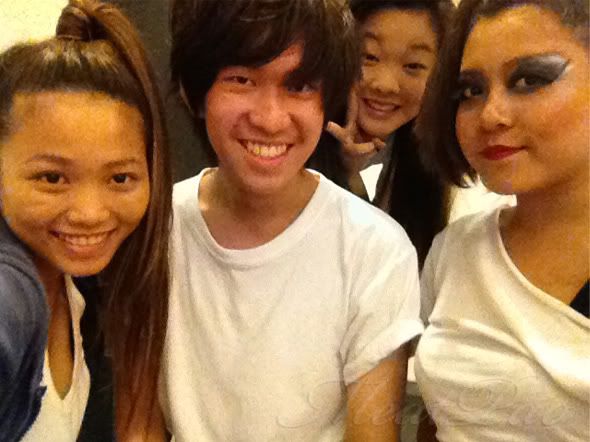 Shantay, me, Cassandra and Shiori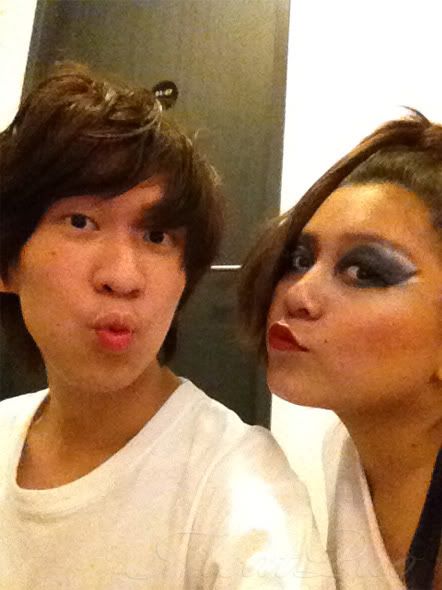 The guys were supposed to have after-sex hair (or to make it sound more family-friendly, "bed hair") but somehow mine kept flattening despite having shitloads of hair spray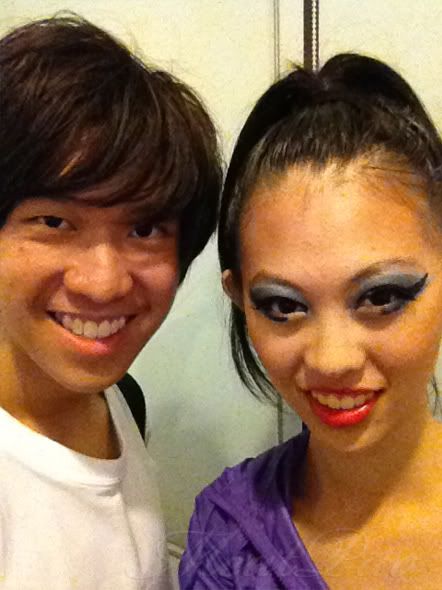 with Jacqueline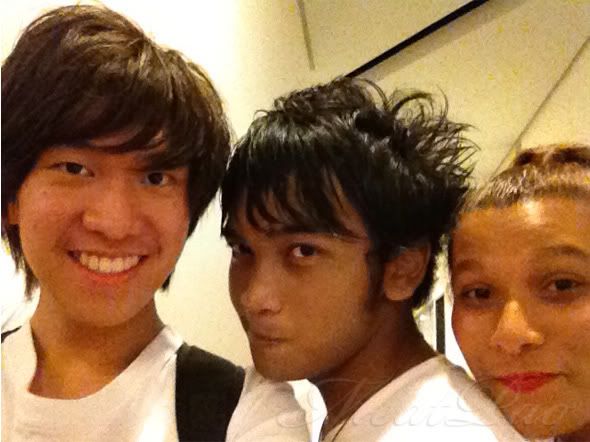 Firdaus and Sonia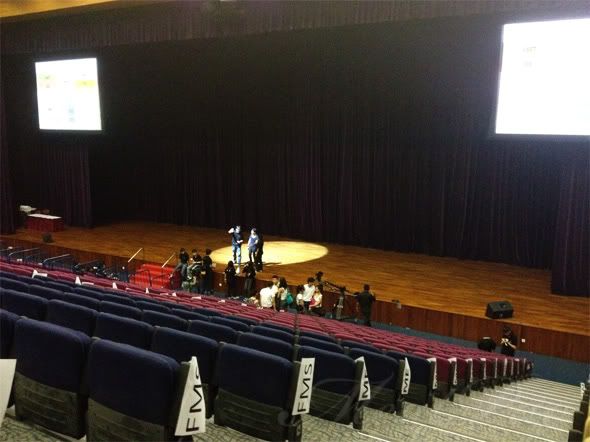 The stage at the convention center
So after that it was finally my turn to have my makeup done, which I almost died from when I looked at myself for the first time...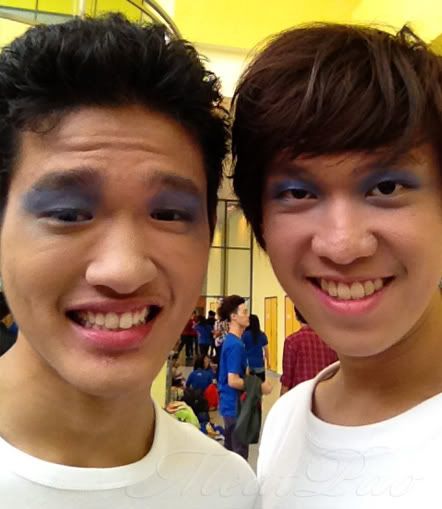 I'M EDWARD CULLEN Y'ALL!!!!!1
Ok this was actually before they did the contouring thingy so it looks really creepy LOL. The person in the picture is Yue Jie who managed to win Gaga tickets on that day from some 987 contest!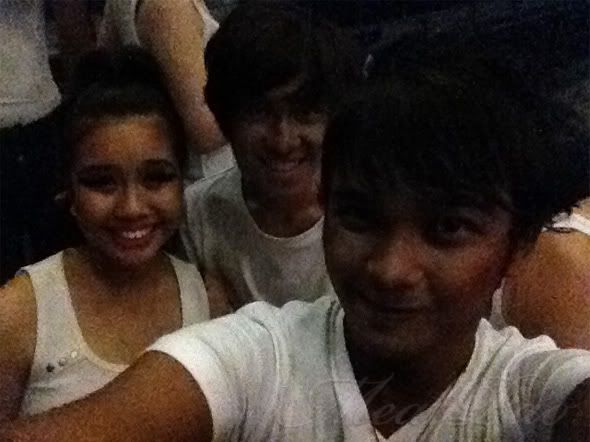 With Firdaus and Nadia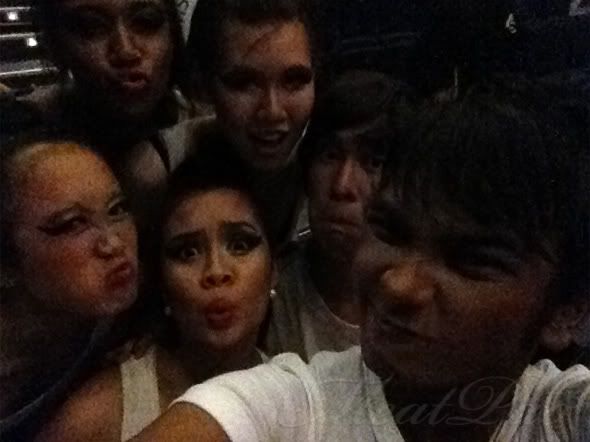 Later joined in by Mariam and Kim. I can't tell who's the one at the back though oops sorry!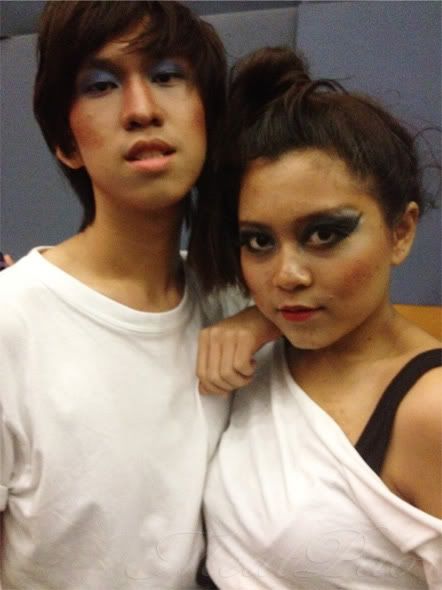 Smexy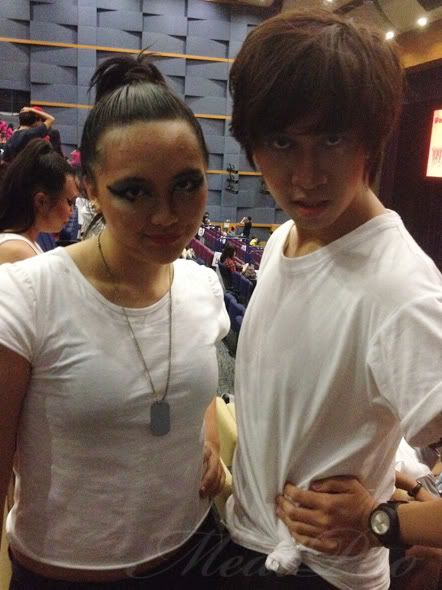 With Nana who got into the school's hip-hop group!
The things I would do to make my school proud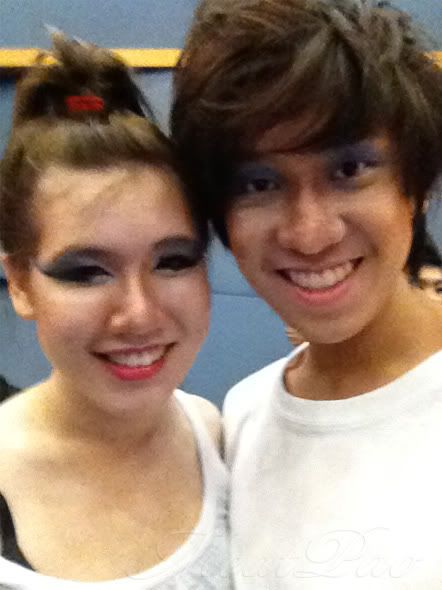 With Kim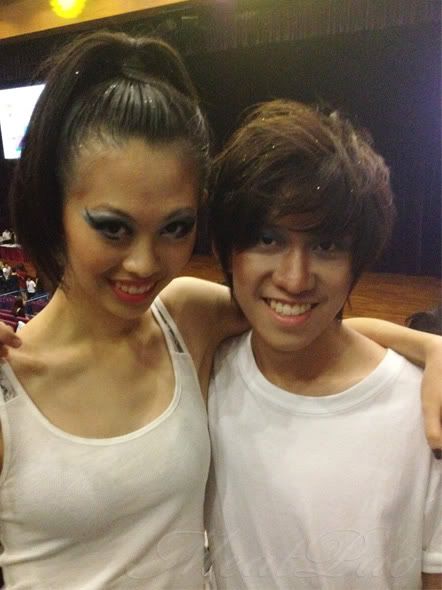 Jacqueline and I after having glitter sprayed all over our hair
And that's all for the photos!
I have to say that after appearing on stage to dance... it happened SO quickly that I'm not joking when I say that I even forgot what I had done on stage. I started to think about how many times I screwed up and then suddenly thinking "OH SHIT DID I EVEN DO THAT MOVE?" when I did LOL
But I really enjoyed dancing on stage leh! I wouldn't go as far as to say that dancing has always been a dream of some sort, but after dancing my ass off I feel that I now have a new-found interest towards it that I even decided to audition for the hip hop group myself hehehe
Aaanyway our school ended up not winning anything :( The winning school was EBM (Engineering w Business Management) and it was well-deserved, I must say! They were the only school that really impressed me, and if you asked Jacqueline who was beside me I kept shouting "OH MY FUCKING GOD" cuz I was just so amazed.
Nonetheless we all had fun, although later that night there was a small "Twitter war" between FMS and EBM students, where some of them even went to make insulting fat remarks about Duane which I thought were simply rude and offensive, even going on to say that he was the cause of our loss!
All I have to say is that Duane really worked his ass off. You could really tell that he gave his all to this and even while waiting for our makeup to be done he was practicing by himself, dancing while listening to the music. Plus, he can dance better than so many of us! I don't get it. Haters gonna hate.
I wouldn't mind joining this again next year if I have the chance to, although I wasn't really any of the outstanding ones for this event so they may not even want to choose me LOL.
But I feel very happy because my friends like Edrie, Philana and Sabrina said that they were all very proud of me ;_;
And a big big thanks to all those who also thought that I danced really sexily that night because I can never get enough of comments associating me with the word "sexy"! ;)
I shall go to sleep now because it's damn late LOL