I'm back for another CDotM after two months at last! Aren't you so excited?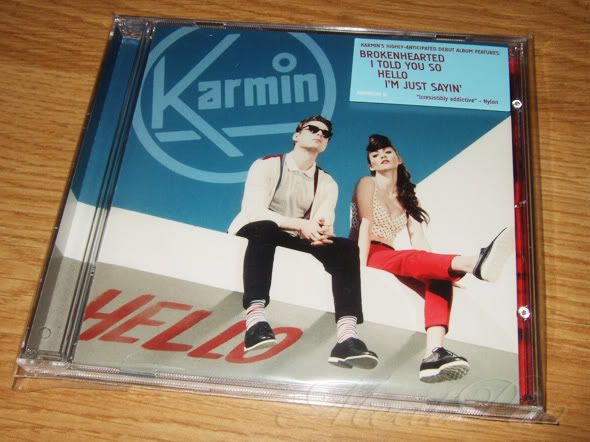 First up I received Karmin's first ever EP,
Hello
. I'm a new fan of Karmin because Edrie introduced me to them and frankly, they're not bad so I decided to try out their new EP.
Of course, I made a foolish decision of buying it before listening to all the tracks because it's pretty shit.
Sorry, Karmin, but Brokenhearted was like the only really good song. And the entire flow of the album is just a mess on top of a mess. Sigh. No wonder everyone wants them to go back to doing covers again! It's quite sad, but as we look on the positive side, we have Brokenhearted out of it!
(2012.06.27) Crystal Kay - VIVID (CD+DVD | Limited Edition)






Just 2 days ago I received Crystal Kay's long-awaited new album,
VIVID
! It's her first full-length album since her label switch and you can clearly tell that she's heading towards a poppier sound which I am extremely grateful for.
The singles released for this album so far are so amazing, I feel so happy for her label switch, whether she's still flopping or not.
I haven't listened to the album tracks yet, but so far I have not heard a single bad review about this album. And trust me, J-Pop fans are anal as fuck (no pun intended). Some even dub it as her best album, so I can't wait to listen to it! I'll probably review it on an... *ahem* up-and-coming project you will know verrry soon. Actually I told you all about it already but I just like creating suspense.
Last CD of the month, which is none other than...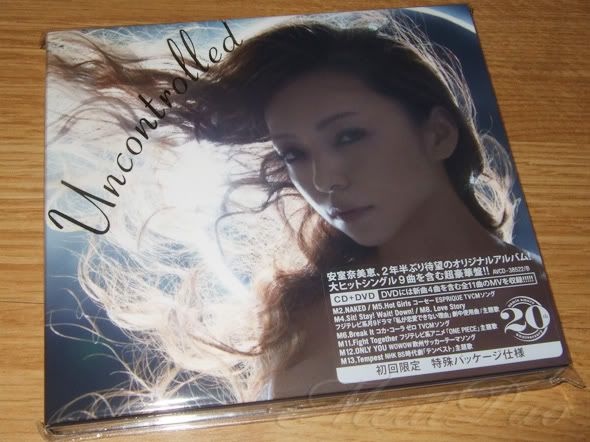 (2012.06.27) Namie Amuro - Uncontrolled (CD+DVD | First Press | Digipak)
Namie Amuro's
Uncontrolled
! Ur hur hur
I'm stanning so hard for Namie right now because of her being in Singapore and all. You cannot believe the amount of breaths I took today knowing we're breathing the same air.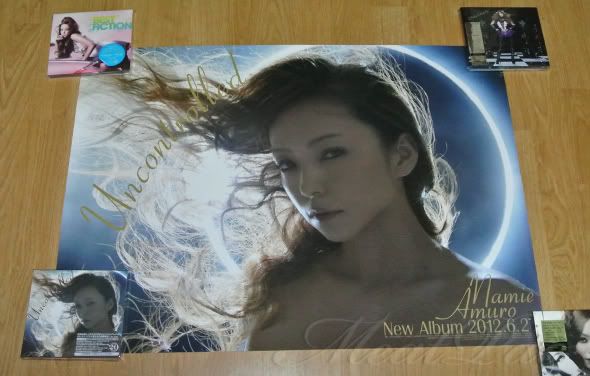 Poster that came with the album
In other news, here's some random trivia!
Uncontrolled outsold the total sales of BOTH Party Queen (ayumi hamasaki) and JAPONESQUE (Koda Kumi) in only 2 DAYS!
The album sold 292k copies on its first week, making it the highest first week sales for an album released in 2012 and immediately skyrocketed to be the #7 best-selling album of 2012. In just 1 week! And this is like, her 20th anniversary! She's like Madonna without the scary arms.
Even though this is only my 5th year being a Namie fan I still feel very happy for her to have been able to achieve so much during the past 20 years. Even after the many controversies she's been through like getting tattoos, shotgun marriage, divorce, and things like that, she was still able to bounce back and become better than ever! Who would have thought Ayu would face a day like this when Utada Hikaru is on hiatus?
Plus, I'd like to applaud the promotional team for their efforts in hyping up this album leading to such a huge success for the album. Looking at this alone puts a certain peer's team to shame.
I listened to the album in its entirety and expectedly, once again, it's fucking amazing. She's never disappointed me since PLAY in 2007!
Although I preferred the original version of Break It I thought the album version helped it to flow better with the album. I also think the English versions of Go Round and YEAH-OH are hilarious. Aiya this album is A++++ la! No contest.
I still feel sad that I won't be able to see her perform in Tokyo Dome or something but I shall continue hopelessly praying that she will hold a concert here.
Meanwhile I hope everybody is enjoying their July because the fasting month is starting soon! Which means that in another month from then I'll be able to eat deng deng again ohohohohoho now I'm excited!