Namie fucking Amuro.
As if releasing a badass 20th anniversary album, Uncontrolled, wasn't enough, the Queen of Hip-Pop decided to attend press conferences around Asia to promote the album. And surprise surprise, it even includes Singapore!
I didn't know about this until Jiarong told me about it. In fact, Universal Music Singapore even set up a lucky draw where preordering the album entitles you to stand a chance to meet Namie Amuro for a "meet and greet"! (You'll see why I "" it later)
Immediately the next day I headed down to CDRama at Jurong Point to preorder 3 copies. Bam! (Someone bought 11!)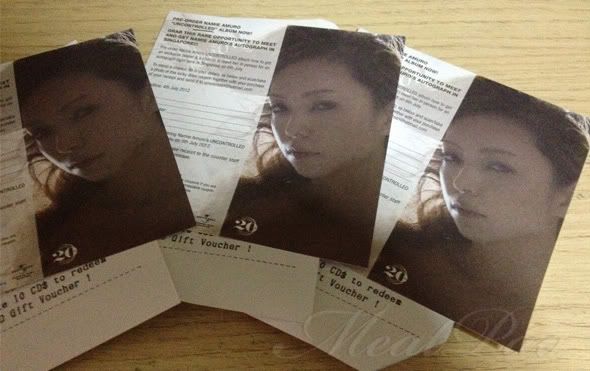 If you remember I also bought 3 copies of Adam Lambert's For Your Entertainment to see him live but didn't win in the end so I was, as always, skeptic about actually winning this.
On the 5th of July UMS had already posted her flight details and everything. At first I wanted to go to the airport with Jiarong but he suddenly pulled out which is understandable because you are essentially travelling across the damn country, wasting hours of travelling time and energy just to see 3 seconds of Namie. So I went with Sibyl!
I was really anxious and scared that I would be late for Namie's arrival (at 6pm) so I kept rushing Sibyl which sent her nuts. I consoled myself saying that Hong Kong is having its typhoon season now so her flight will surely be delayed LOL.
Anyway, I ended up not being the only anxious one because the moment we arrived at Changi Airport Sibyl fucking RAN FROM THE MOMENT WE TAPPED OUT ALL THE WAY TO THE SKYTRAIN TO T1. I am going to fucking kill her because it was so embarrassing yet hilarious at the same time.
After arriving at TERMINAL 1 WE RAN AGAIN oh god. There was this other guy, assumably going to see Namie too who saw Sibyl run and sprinted all the way to the front as well, and he also looked hilarious running. Walao, imagine the security guards looking at the CCTV seeing 3 crazy people running across the damn place.
When we arrived we were pleasantly surprised by how there were very little people! I mean, compared to the number of people I had in mind la. I even bumped into a junior!! I think his name is Junyong or something. If anyone reads this tell him I said hi.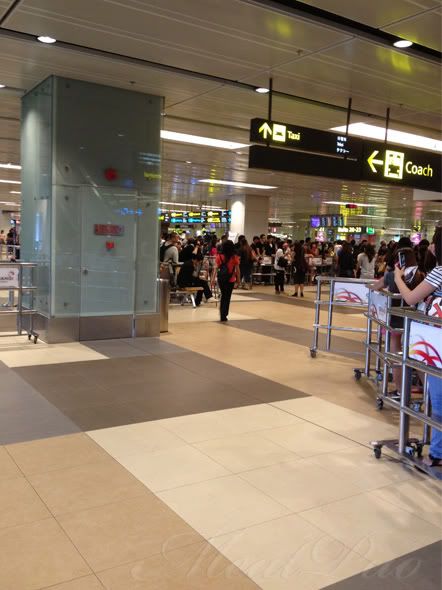 A lot of people brought their stuff for Namie to sign but I didn't! I was getting worried because the reason why I didn't bring anything was because I know Namie wouldn't do it. But what if she did? I should have just brought them in case!
I thought it was quite funny how I saw this auntie holding a non-Japanese press copy of SWEET 19 BLUES that looked like it's pressed in China. Don't scare Namie away gurl. And guys, her name is pronounced as "Na-mee-eh" not "Nami" lol
When I was standing at my position near the entrance, I turned around slightly to talk to Sibyl and this woman decided to take the opportunity to squeeze her way into my original position. FUCKING BITCH! She's lucky there was still space for me to be at the railing or shit is gonna get down. Shameless bitch even had the nerve to turn around, say sorry to me, then proceed to get her handbag from where she was originally standing. DIAF.
Anyway, putting aside my angst and OCD-ness,
NAMIE FINALLY APPEARED!!!
Unfortunately, none of the photos I took had her inside. Fortunately, the video Sibyl took with my iPhone had her inside, and she waved at us!
My first thought in mind when I "saw" her was "what the fuck"
(and I said it audibly loud, later you can hear in the video)
because she was
VERY TINY
. I always knew she was short but fuck, she's damn petite!
I used inverted commas because you couldn't even SEE HER. Media personnel with their cameras up high were towering over her, and the bodyguards were surrounding her sides and back. It was like a fucking fortress surrounding her with an occasional thin arm stretching out to wave at us.
(as mentioned, you can hear my "what the fuck" after somebody's super high-pitched "OH MY GOOOOD")
After that this Japanese woman with a camera interviewed us but refused to tell us which Japanese channel she was filming for. I was like "NHK? NHK?" and she walked off. Sigh. Whatever, I think we're gonna appear on NHK!
I was so glad I got to see Namie for the first time ever! And we were quite close too! Even front row concert seats will never get me that close!!
I heard that before Namie landed there were some Japanese people who were curious and asked who they were waiting for. When they found out it was Namie they were so sad cuz they couldn't stay and wait for her! They said that we were very lucky because in Japan it'd be too crowded to even see her! YES MISS I AM VERY LUCKY DESU *bow bow bow*
Although I mentioned that Namie doesn't do signings she did sign somebody's poster at the other entrance, so I guess I'm slightly wrong. But hey, it's only one ok!!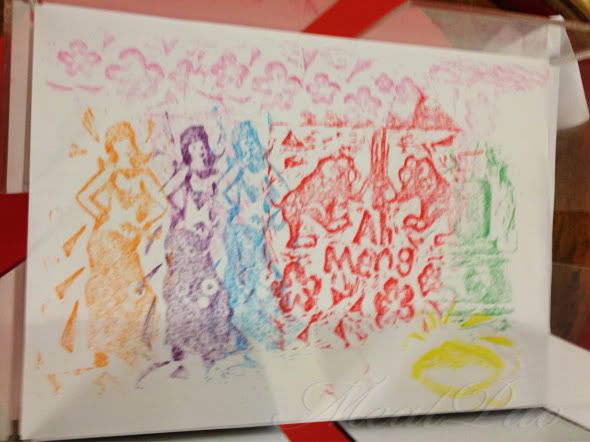 Here's a random picture of Sibyl's "artsy" crayon artpiece at the airport
I probably should have mentioned this earlier in the post, but actually earlier on that day, I received a phone call in the middle of my WEBGRA lesson. That day was the announcement day of the lucky draw results.
This was how our phone conversation went (I was whispering under the table all the way):
Me: Hi!
UMS: Hi is this Travis?
Me: Yes
UMS: Are you having class now?
Me: Yes
UMS: Do you want me to call you back at a later time?
Me: Yes, can you call me back at 12pm?
UMS: Ok ok
Me: Wait! Who is this?
UMS: I am xxxxx from UMS
Me: Ok thank you bye bye! *hang up*
And I became so ecstatic. You can ask Angela who was sitting beside me. I didn't even want to listen during lesson anymore! During our 5 minute toilet break I called back and she said that there was going to be good and bad news. I immediately exclaimed "NOOO DON'T TELL ME I'M NOT GONNA MEET NAMIEEEEE" LOL
Anyway the bad news was that there wouldn't be an autograph session, which I couldn't give two shits about because I know she doesn't do that LOL. Instead of their purported meet-and-greet it turns out to be a press conference instead. A lot of people felt cheated that it wouldn't be a meet-and-greet but I think we should be happy that we're even given the chance to attend the press conference!
I later found out that there were only 20 people selected out of like, hundreds. This is probably the luckiest moment of my life!
On the day of the Press Conference itself I made my way to the undisclosed meeting place which was actually in front of Sweet Spot at Tower 3 of Marina Bay Sands! I even met this dude who was standing beside Sibyl and I at the airport! What a coincidence. So I kinda used that as a conversation starter to avoid awkwardness.
I was so excited even though it's only a press conference! We were given stickers with "Universal Music" printed on it and pasted on our clothes before we were brought up to the 57th floor at Ku Dé Ta where it's held.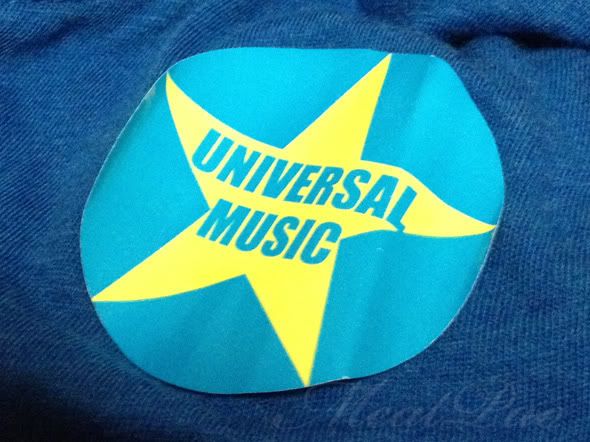 As it would turn out the place was quite small and we were standing quite far back. It's alright cuz the view wasn't too bad and I was able to see her clearly!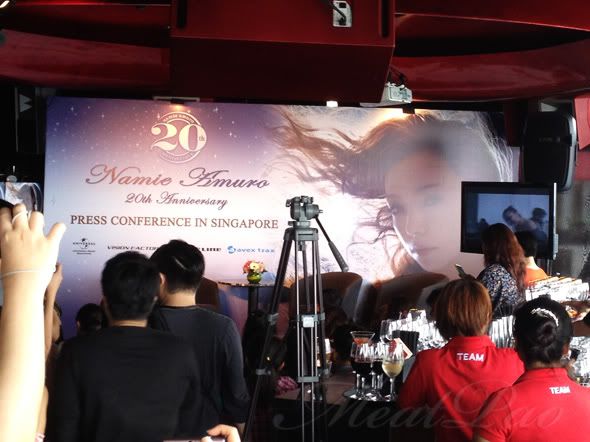 Before she even came out I managed to get a glimpse of her (or rather, her flawless hair) behind a black veil that was somewhere behind the stage. I had a fanboy moment when I saw that and everybody stared at me after which I immediately acted like nothing happened to prevent shit from happening.
Meanwhile they were playing what seems like her media press kit on a television and it looked pretty good. I never figured who got to see those though since they aren't widely circulated but ok.
After she was fashionably late for like 20 minutes the press conference finally started! We all didn't freak out, but she noticed that I was waving at her and she waved back! Well, when I started waving everyone started to copy me but whatever!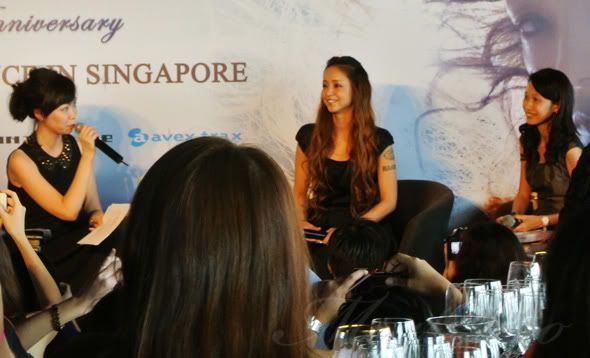 The interviewer asked her all the same old questions that she's probably been asked again and again already so I shan't bother retyping everything here. She was also going to have chilli crab that night for dinner!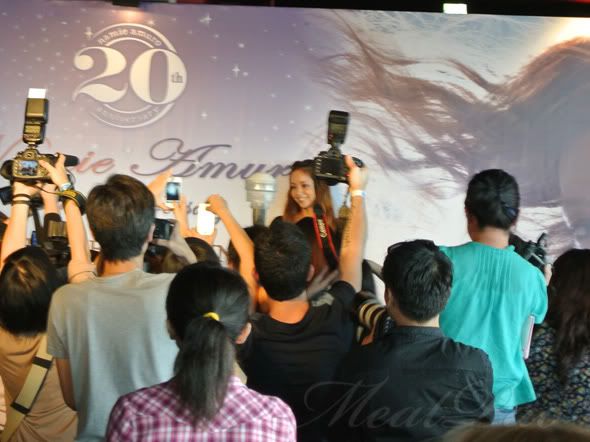 Posing for the media
Though it was only a short 30 minutes I was so happy to have finally seen Namie in the flesh! We were then brought back down where we all took a group photo that was posted on Universal Music Singapore's Facebook page!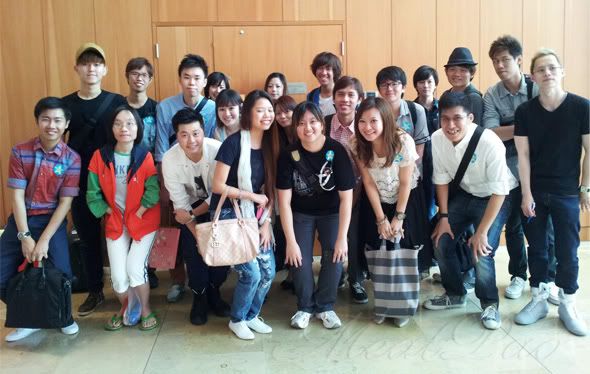 Eat your heart out, woman who snatched my place at the airport!
Here's a short video I took of part of the interview hehehe
Aside from that, 2 of the people got chosen to be interviewed by RazorTV. Pui chao nua, why never interview me right? So I literally went to ask them after their interview "Why you interview them never interview me (sad face)" and I got interviewed together with this other guy with me HAHAHA YAY!
Wrong move because I am now on the RazorTV video and I look very embarrassing
(link)
Hi Travis why are you so embarrassing?
I really hope Namie does come back for a concert though. I can sense that she really loves Singapore already. I mean, come on, our airports had barricades in place for her!
The attendees were also given clear files with the Uncontrolled cover on it!
I don't know what else to say but I'm so happy to have been able to attend this so THANK YOU UNIVERSAL MUSIC SINGAPORE!!!
Some of them even stayed for a long time after the press conference in the hopes of seeing Namie and THEY DID! They even managed to snap a group picture with her, and seeing Namie actually taking pictures with her fans is pretty damn shocking to be honest. I feel so jealous, but I deserve it for not joining them... but it's okay, one day it shall be me that people will wait for hours for! Hahahaha stop judging me
On Saturday night it was "Amuro Night" at Dragonfly at the St James Power Station Crub but I am clearly underage so I didn't go... anyway Namie did indeed make a guest appearance there
(it was supposed to be only her dance troupe)
just like she did in Hong Kong. Sighhhhh
Anyhoo, this whole experience meeting Namie is just so cool. Although I've seen Lady Gaga live, after all, J-Pop is and always will be my first love. *cue Utada Hikaru's First Love* YOU ARE ALWAYS GONNA BE THE ONEEE IMAAAA WA ok I shall stop
Later that night when I attended Japanese class I told my sensei, "Sensei! Today I went to see Amuro Namie!"
Her face was immediately like :OOO "AAAAMMMURO NAMIE?! SHEEE'S IN SINGAPORE?!" and when people asked her who that is she started to sing
Don't wanna cry
omg damn cute! "She's a veeeery famous singer, can dance veeeeery well!"
She then went on to say how Sakurai Sho from Arashi came last week too and she didn't get to see him. She went to write Arashi on the whiteboard while singing the arashi arashi song. Sensei why so kawaii-ne?
The next day after the Press Conference The New Paper had an entire page on the it!!!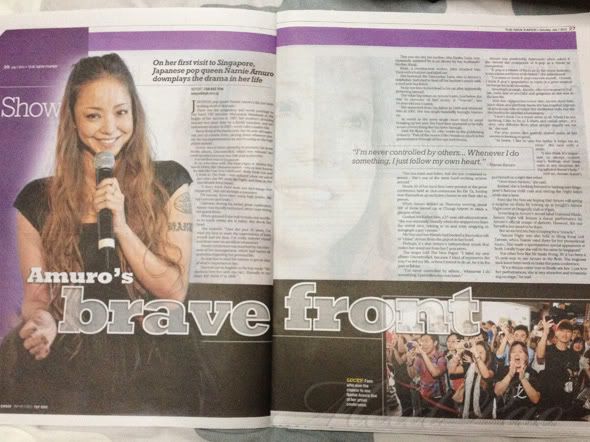 The best part of all is that I'm in it!!! Can't see is it?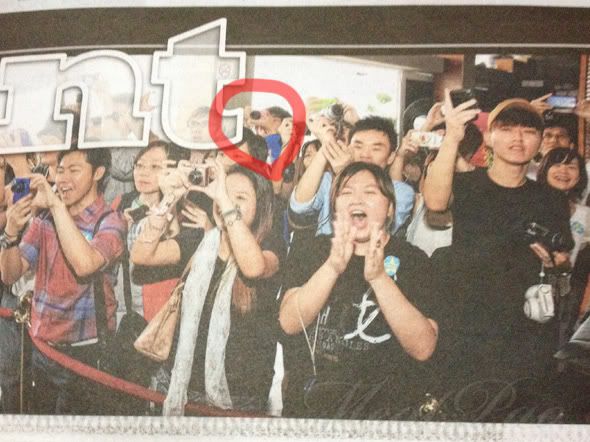 Tada! That's my 1cm² of fame! Don't you like how I'm holding a pink camera which belongs to Sibyl
Meanwhile, The Straits Times only reserved a small pathetic corner for her with a very irrelevant title: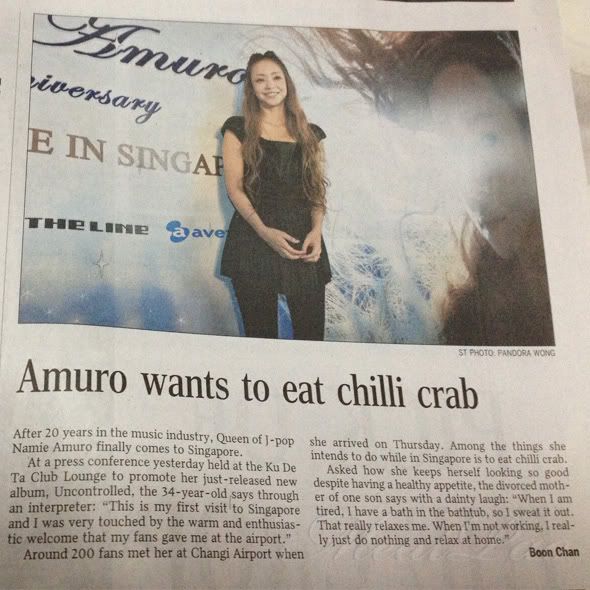 "Amuro wants to eat chilli crab" ok can
This is pretty much my experience with Namie Amuro in Singapore!
I'm glad that Singapore is getting greater recognition among the J-Pop stars and hopefully they'll start holding concerts here as well. They probably used to think that Singapore is some kind of 3rd world politically unstable mess where the people all speak Latin.
I shall end off with a message for Namie Amuro which will never be read by her NAKED eyes (har har har): NAMIE AMURO PLEASE PERFORM IN SINGAPORE FOR CONSAATO PRZ THANKS ;_; I WILL DELIVER A HUSBAND TO YOUR HOUSE (me) (ok now that's just creepy)